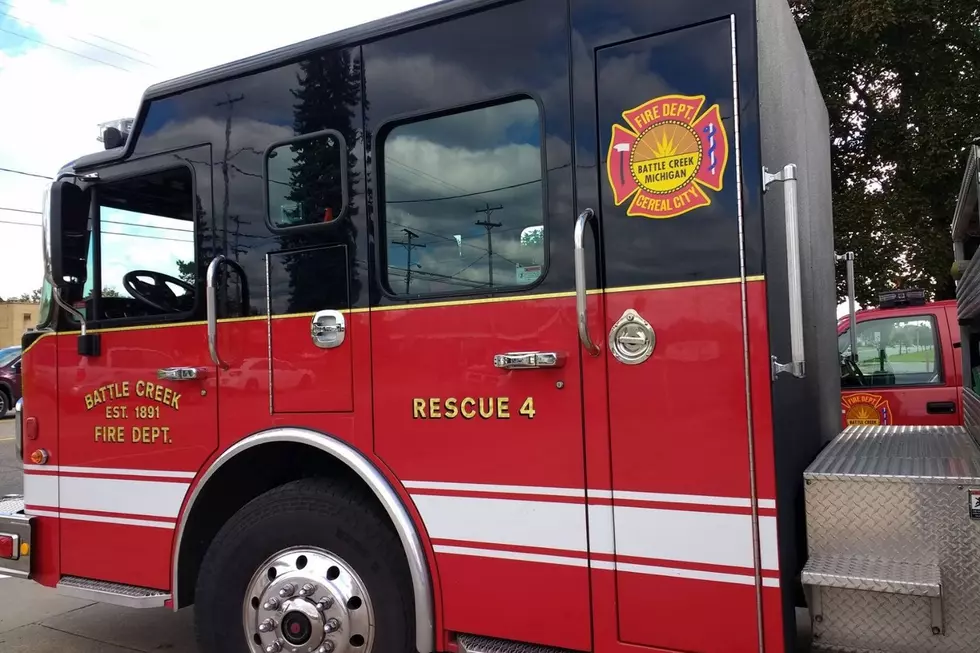 Battle Creek Firefighter Injured While Fighting Blaze
Photo: Battle Creek Fire Department
A Battle Creek firefighter was injured while fighting a fire at an apartment complex on Greentree Boulevard, Friday morning.
Rescue 6 was first to arrive on the scene, around 9:45 am., where they observed smoke coming from the eaves of the attic of the wood-frame structure. They pulled an attack hose line into the structure and began an interior attack and quickly gained fire control on the third floor. They then began pulling the ceiling to control the blaze in the attic space.
As firefighters were busy on the third floor of the structure, the Truck 1 crew simultaneously performed vertical ventilation to vent superheated gases and clear smoke, so fellow firefighters could survey the interior apartment units, checking for any spot fires and possible spread of the fire.
As crews battled the blaze, one firefighter sustained a back injury and was transported by ambulance to the hospital.
The following investigation determined that the cause of the blaze was by a contractor using a salamander heater that caught some plastic on fire, which spread rapidly up the wall and into the attic space, resulting in property damage estimated at  $51,705, with content damage estimated at $2,895.
$5M Home with Secret Harry Potter Bedroom is Every Kids Dream
This home in Florida is truly beautiful. With its grand 25 foot entry with Crystal Chandeliers, floating double staircase with glass railings, this 8 bedroom, and 10 bathroom home is spectacular, to say the least. Still....that's not even close to being the "wow" factor of this 8.986 square foot home. Believe it or not, what makes this home so amazing is the kid's bedrooms. Not just any bedrooms, but themed bedrooms that are masterpieces in themselves.Specifically the Harry Potter-themed bedroom. Wizards and muggles will love the Harry Potter-themed room that you enter through a rotating brick wall to a train station. Then on platform 9 ¾, you will find a life-sized Hogwarts Express train with incredible sleeping quarters complete with a life-size Harry Potter, Dobby, Dragon, and Whomping Willow. For the little princess in your life, there is also a Beauty & The Beast-themed room with a Princess Belle's Luxurious bedroom. And we can't forget the massive Marvel-inspired game room. Of course, the home is located just a few miles from Disney and Universal Studios, situated on a Jack Nicklaus golf course in Reunion, Florida. This home is definitely something you need to see! Take a Look!