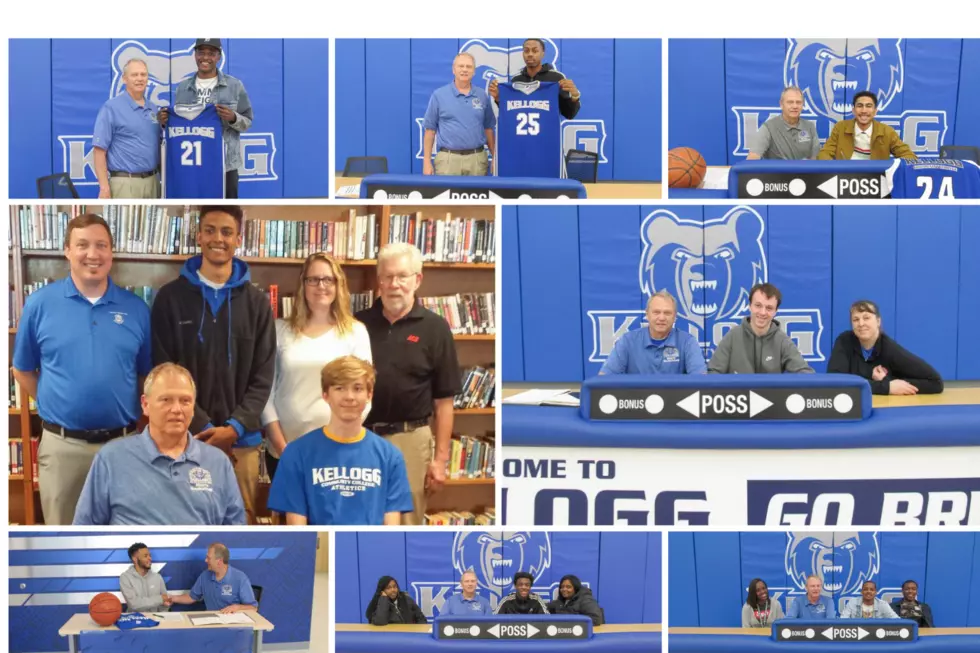 Bruins Sign 8 for 2019-2020 Men's Hardwood Season
Kellogg Community College Men's Basketball signees for 2019-2020 -(top L to R) Larry Patrick, TahVeayr Boykins and Alika Edmonds, (middle) Stephen Dotts and Ryan Flikkema, (bottom L to R) Jamari Newell, Eddie Wesley and Karlos Berry. (Kellogg Community College - provided)
Kellogg Community College 2019-2020 Recruits
The Kellogg Community College Bruins are primed for a new season of Men's Basketball under second-year head coach Gary Sprague. The former Gull Lake head coach now has his first true recruiting class, bringing in eight players. Half of the new recruits have Southwest Michigan ties.
The new members of the Bruins squad will replace at least four players from Sprague's inaugural season, and add depth to a roster that plans on bringing back just six players.
All eight men signed their National Letter of Intent with the past week.
Karlos Berry - PG - Redford Thurston
Berry, originally from Benton Harbor, finished his senior season as the Eagles MVP and leading scorer. He helped Thurston to a 13-7 season, a co-championship in the Western Wayne Athletic Conference and first-team All-WWAC. Sprague stated that Berry can "shoot from outside and can finish. He is a pass-first guard that makes the offense run. His [Berry's] speed and quickness makes him a lock down defender."
TahVeayr Boykins - PG - Walled Lake Western
Boykins helped the Warriors to a 9-12 season his senior season, including a 19-point fourth quarter that helped Western come from 10 points down to a 13-point victory. Sprague describes Boykins as a "tall point guard who passes first but can score from inside and beyond the three-point arc. A complete player."
Stephen Dotts - G/F - Charlotte
Even though the Orioles struggled at 5-16 his senior year, Dotts received honorable mention all-conference recognition in the Capital Area Athletic Conference. Sprague stated that Dotts is "an outstanding scorer, but his biggest asset is his tireless motor. He sprints everywhere, plays tough defense and is a consistent presence on the backboard."
Alika Edmonds - G - Kalamazoo Central
Edmonds joins the Bruins after playing for a very successful Kalamazoo Central squad that finished 14-5 and winning the Southwest Michigan Athletic Conference's East Division for the sixth straight year. Edmonds also was an honor roll student all four years at K-Central and member of the National Honor Society. Sprague is proud to have Edmonds on the squad, placing him as a "good shooter, smart ball handler and a tough defender."
Ryan Flikkema - F/C - Hastings
Needing to provide some size to the Bruins roster, Flikkema will "provide inside scoring and rebounding strength that we sorely missed" from last year's squad, according to Sprague. Flikkema is 6'7" and would already become the tallest player for KCC, two inches over Bronson's Wyatt Heal. He also became captain of Hastings' soccer team as a sophomore. He helped the Saxons to a 7-14 record on the hardwood last season.
Jamari Newell - Flint Beecher
A player with the most experience out of the eight recruits is Newell, a member of Flint Beecher's championship teams in 2016 and 2017. He also spent a year with the Grays Harbor College Chokers of the Northwest Athletic Conference (a junior college, but not affiliated with the National Junior College Athletic Association). Sprague said that Newell's "maturity, experience and skills will make us [Kellogg] tough to beat."
Larry Patrick - Flint Mott Middle College
Another player that may fill a hole in size on the KCC roster is Patrick, who completed his education at Mott Middle College. Sprague stated that Patrick could make "a huge impact right away". He added that Patrick rebounds, sets screens and finishes with authority.
Eddie Wesley - G - Grand Rapids Union
The Bruins add on another honor roll student in Wesley, who spent the last two seasons with the Red Hawks varsity squad. Union finished 11-10 last year in the always-challenging Ottawa-Kent Conference's Black Division. Sprague categorized Wesley as "fundamentally sound", "in control at all times" and "good at all phases of the game."