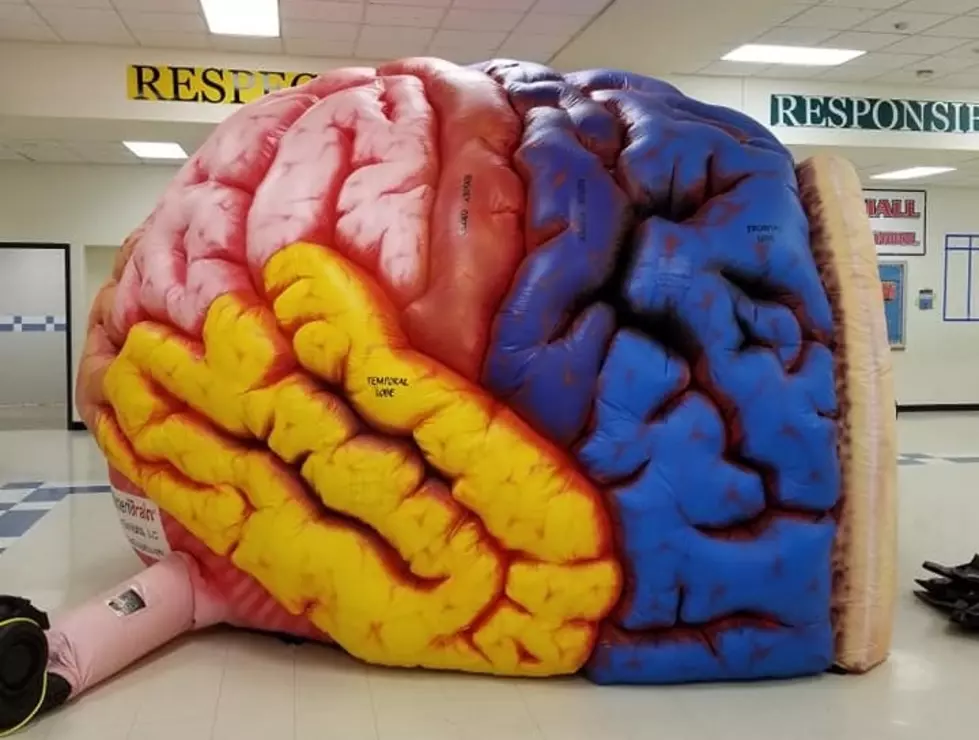 Calhoun County's Biggest Brain on Display
he Big Brain-Photo by Sherii Sherban
Where can you find Calhoun County's biggest brain?   Today it was Marshall Middle School.  Soon it'll be at the Kool Family Center, and also downtown in Festival Market Square.
The "Brain" is a large replica of the human brain, that Miles for Memories recently acquired to give people a unique perspective on how the brain works.
 The "Great Mind Pedagogy Exhibit" debuted at the Calhoun County Senior Fair today (April 4th)..   It's happening at the Marshall Middle School until 1:30pm.
The exhibit is a fun and informative way to teach the community about the importance of brain health and dementia. The Great Mind Pedagogy Exhibit is available because of local fundraising efforts to help raise awareness about dementia, including Calhoun County Senior Services.
Inflated Dimentions of the brain
Visitors are treated to both hands-on and visual learning with:
Flashing lights representing nerve electrical impulses.

Locations in the brain for movement, hearing, touch, personality, balance, language, and more.

An opportunity to see how memory may be disrupted.

A chance to touch areas representing blood clots leading to Vascular dementia and stroke.
Visual representations can be made available for Alzheimer's disease and other dementias as well as:
Aneurysm

Brain blood flow

Brain lobes

Brain stem

Brain tumors

Cerebellum

Concussion

Drugs

Epilepsy

Meningitis

Optic nerve

Parkinson's disease

Pituitary gland

Stroke
If you missed the Calhoun County Senior Health Fare, the Brain will also be on display at some upcoming "Miles For Memory" events.
Tuesday April 16th, Research Update at the Kool Family Center, 5pm.
Saturday May 4th, "Cinco de Mayo" at Festival Market Square in Downtown Battle Creek.
Friday May 17th, Rock a Thon at the Calhoun County Medical Care Facility.