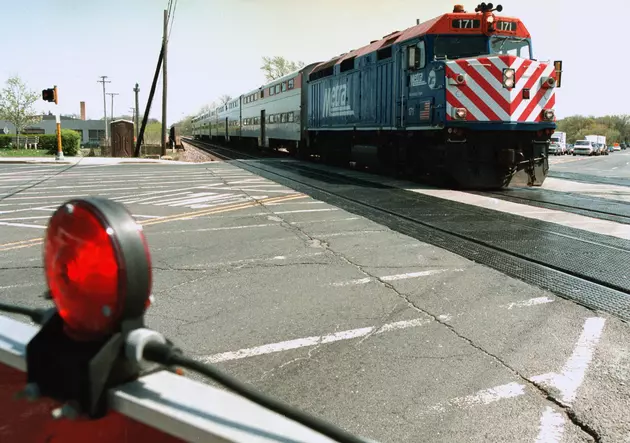 Remember When Railroads Crossed Interstate 94 in Michigan?
Photo By Tim Boyle/Newsmakers
Interstate highways are intended for rapid travel across the country with no stopping for things like crossroads, railroads and drawbridges. But that wasn't always the case. Do you remember railroad crossings on I-94 in Michigan?
There is at least one verified railroad crossing along I-94 it was near Albion.
The railroad tracks were somewhat close enough to the M-99 bridge over the highway on the east, that erecting a bridge over the tracks would have been expensive along with approaching exit and entrance ramps. Instead, highway officials decided on a regular grade crossing in hopes that the railroad would eventually be abandoned.

The highway level was lowered for several hundred feet in approaching directions down to the level of the tracks. Asphalt was used for this approach, in contrast with the concrete surface of the rest of the highway. The entrance ramp onto westbound I-94 from M-99 was fashioned so it ended just short of the tracks. This situation no doubt created a traffic hazard whenever trains cross the highway, usually once a week. Engineers would manually turn on the railroad crossing signals, cross the highway, and turn off the signals on the other side.

In the late 1960s the railroad hauled a large shipment of natural gas pipes which were subsequently laid to Springport. This caused railroad business to decline as coal shipments to Springport were no longer needed. Needless to say, no prospects were on the horizon in Devereaux, either. Only the grain elevator in Springport could utilize the railroad. The railroad then petitioned the Interstate Commerce Commission to abandon the line.

The stretch of tracks from Albion to Springport were officially abandoned in 1969, and the tracks were removed to a point just east of N. Clark St. The railroad used that remaining portion to store unused railroad cars for several years. A reconstruction project ensued, and the level of the highway was raised to match the rest, and concrete was laid. The westbound entrance off M-99 was reconfigured and lengthened. The adjoining farmer on the north removed all evidences of the railroad bed, as well as the boundary trees. Thus today you can hardly tell that a railroad once crossed here.
The Last Remnants of the Railroad That Once Crossed I-94
Today in downtown Albion, the rails of the long-abandoned railroad can be seen along North Clark Street.
In Springport, there's a Railroad Street where the tracks used to run. There's also the old depot, but none of the tracks remain.
BONUS VIDEO - Albion's Abandoned Dalrymple School