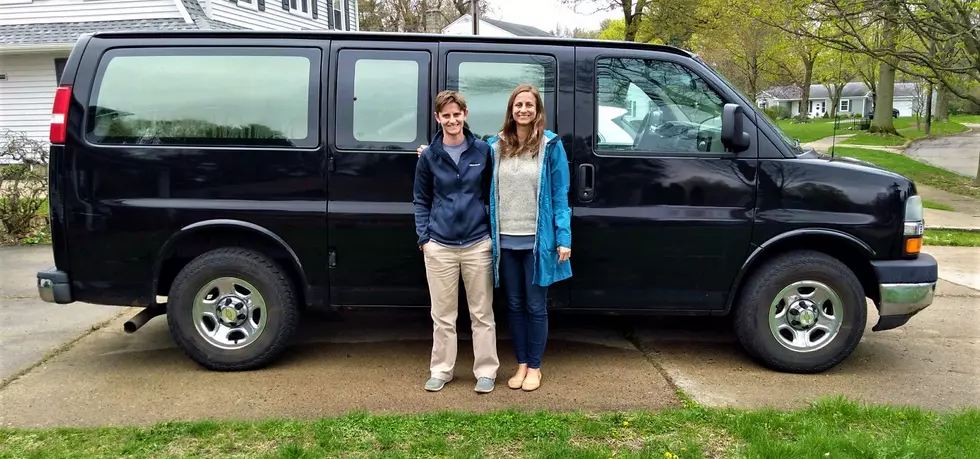 Family Donates Their Late Father's Van to Soup Kitchen
Randy Hudson's Van -God's Kitchen Photo
The daughters of the late Randy Hudson have donated their father's 2005 Chevy Express Van to God's Kitchen of Michigan. Hudson volunteered at the soup kitchen for eight years, using his vehicle to transport food and supplies on behalf of the 501(c)(3) hunger-relief charity.
Hudson was introduced to the soup kitchen in 2011 by his daughter, Abbey Hudson, after his wife and best friend, Jacqueline "Jackie" Hudson, died. Randy became deeply depressed and told Abbey that he wanted to become a hermit because he missed his beloved spouse. Refusing to accept his downward spiral, she took him to God's Kitchen of Michigan and register him as a volunteer. He fell in love all over again, this time with a new mission of feeding the homeless and hungry in Battle Creek and Kalamazoo.
"Randy hardly ever missed an opportunity to volunteer at God's Kitchen of Michigan," said Pastor William Stein, Chairman of the soup kitchen. "He spent as much time volunteering as I have, except for illness or visiting his daughter's in New Jersey, Colorado, and California."
Hudson was born in Battle Creek, Michigan, where he lived for most of his life. Randy graduated from Delton High School and worked at Post Cereal Company, in 29 Building, for almost 40 years. He met his wife Jackie at the cereal plant.
In 2017, Randy Hudson received the Presidential Volunteer Service Award –a national award given to citizens for community service— established by President George W. Bush. The program is administered by the Points of Light Foundation. In 2018, God's Kitchen of Michigan presented him with their Elizabeth Brindley Volunteer of the Year Award.
After a long bout with illness, Randy Hudson eventually succumbed to cancer and died on Tuesday, April 23rd. He is survived by his three daughters, Abbey Hudson of Los Angeles, CA; Maggie Hudson of Cortez, CO; and Sarah (Evan) Hudson-Plush of Montclair, NJ; and by three grandchildren: Henry, Hattie, and Huck Hudson-Plush.
On Tuesday, April 30, Randy's daughters donated his 2005 Chevy Express Van to God's Kitchen of Michigan to continue his legacy of feeding the homeless and hungry in Michigan.
"There was no doubt that we had planned on donating our father's van to God's Kitchen of Michigan," daughter Abbey Hudson said. "He would have wanted it that way."
In order to keep his van operating, the Randy Hudson Memorial Fund was established at God's Kitchen of Michigan. A portion of the money will be used to allocate scholarships to college-bound high school seniors that volunteer a minimum of 50 hours at the soup kitchen and maintain a 3.0 Grade Point Average (G.P.A.). The remaining funds will go to vehicle insurance, tags, gasoline, and maintenance.
To support the Randy Hudson Memorial Fund, please make a safe and secure donation online or send your tax-deductible gift to God's Kitchen of Michigan, P.O. Box 2632, Kalamazoo, Michigan 49003. Include the letters "RHMF" in the memo column.