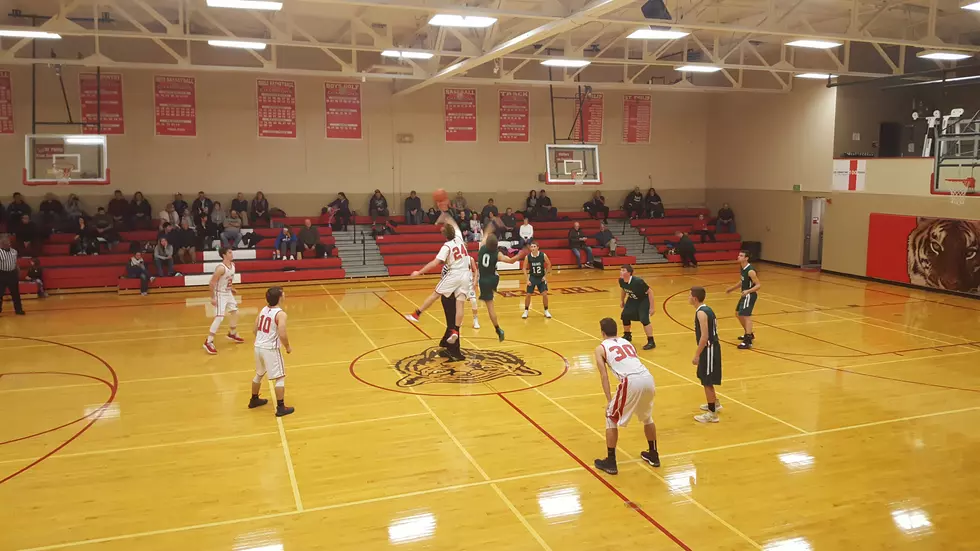 HS Basketball – Quarter-Long Run Leads St. Philip to 4th Straight Win (VIDEO)
The opening tip between the North Adams-Jerome Rams and the St. Philip Fighting Tigers December 6, 2018. (Photo - Nathan Adams)
The St. Philip Fighting Tigers have had an impressive start to the 2018-2019 basketball season. It continued Thursday at the Tiger Den in the latest non-divisional match-up in the Southern Central Athletic Association.
After a commanding victory over county-rival Tekonsha 62-30 in their home opener Monday, St. Philip put together another impressive start against the North Adams-Jerome Rams Thursday to stay undefeated on the season.
The four other teams in the SCAA (Athens, Bellevue and Climax-Scotts in the West and Tekonsha in the Central) were all in action Thursday night. Check out the recap and all the scores below as we prepare for the next Game of the Night on Friday to begin our broadcast season on 95.3 WBCK.