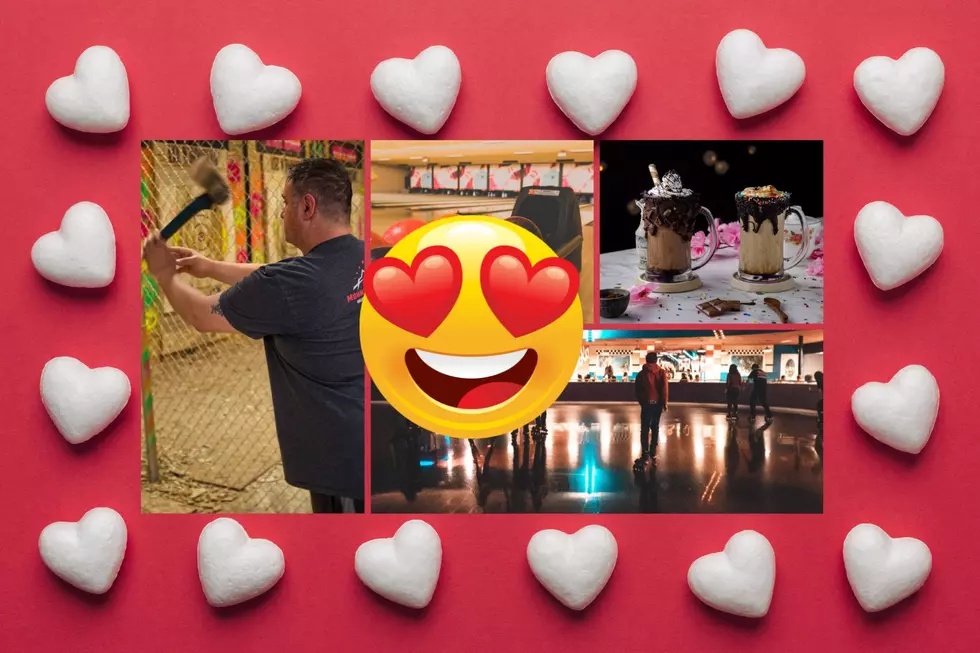 6 Cheap or Free Ways You Can Celebrate Valentine's Day in Kalamazoo
Unsplash/Canva
Valentine's Day, a.k.a. February 14th, falls on a Tuesday this year which means you have plenty of opportunities to celebrate with your sweetie either the weekend before, the day of, or the weekend following.
Heck, you could make an entire week of it! Just a thought.
If you're still digging yourself out of the hole of holiday spending but you still want to show that someone special just how much you care, here are some relatively cheap (or better yet free) date night ideas in the Kalamazoo area for you and your main squeeze:
---
Go Skating at Rollerworld - $11-13
Relive your glory days at Kalamazoo's favorite roller rink. Rollerworld has been in operation since 1978 and still offers some of the cheapest fun around! The rink is regularly closed on Tuesdays, but you can participate in couples skates the weekend before or after Valentine's Day. Every Friday night is Adult Retro Skate from 8:00-10:00 p.m.
---
Laugh Out Loud at a Comedy Show - $5 Cover Charge
Grabbing a couple of drinks and dropping in on an open mic night is one of my favorite things to do. This is one of my own personal go-to's for cheap date nights for any time of the year. Traveler's Cafe and Pub in Portage features "The Laughter Layover" each 3rd Friday of the month and a Pro-Show every 2nd Saturday. February's events fall on February 11 and 17.
---
Grab Sweets With Your Sweetie - $10
Kick date night up a notch with decadent desserts like the ones featured at Cherri's Chocol'art. The ice cream shop is featuring 2 new flavors for Valentine's Day, the "I Love You Monster Shake" featuring strawberry cookies and cream ice cream, Little Debbie snack cakes, and sprinkles or the "Peppermint Hot Chocolate Monster Shake" made with mint Oreos, peppermint bark, and homemade toasted marshmallows.
---
Rock and Bowl - $16
I'm not picky about my bowling! I prefer a bowling alley with bright fluorescent lights and ashtrays still built into the tables, which a certainly cheap, but flashy complexes like Revel & Roll certainly offer plenty of fun too. The latter features unlimited bowling 7 nights a week for $15.99 including shoe rental. Even better, Tuesdays are Ladies Night where ladies receive 2 free games with the purchase of shoe rental.
---
Book a Tour With Bell's - Free
Brew tours are back at Bell's! These 45-minute tours are available on the weekends for patrons age 21+. Not only is the tour free, but so are the beer samples! It's a fun way to get out and spend some quality time with the beer-lover in your life while getting to learn more about a Kalamazoo staple.
---
Shoot Your Shot at Axe Throwing - $25
Besides stand-up comedy shows, axe throwing is one of my top go-to first-date activities. Nothing builds trust faster than being in an enclosed space with someone holding a sharp object. If you survive axe throwing together, you can survive anything! You can head up 131 to Plainwell to try your skills at Choppin Co. or head to Revel & Roll where the cost is $25 for one hour for a team of 2 throwers.
What's your favorite date night spot in Kzoo?
Michigan Themed Valentine Cards To Give Your Loved One
Let's go back to the days when we were kids and do something romantic for the ones we love, while also staying local.
Cheap and Easy Valentine's Day Gifts
Here are inexpensive and fairly easy but thoughtful gifts you can buy or make for you significant other for the holiday of love, Valentine's Day.