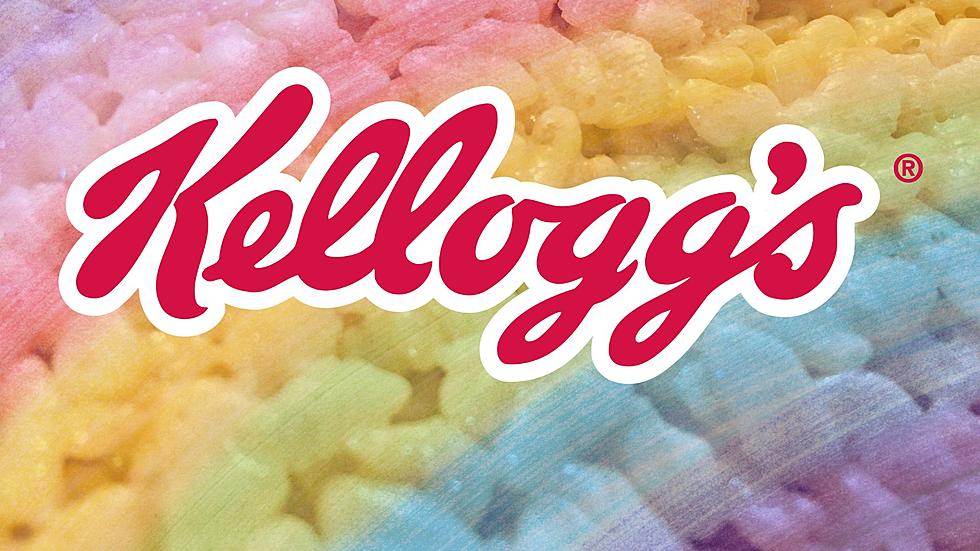 Kellogg's Brings The Rainbow Into Long-Time Favorite Cereal
Canva/Kellogg's
Two kinds of cereal stand out as the foundation for Kellogg's Cereal - Corn Flakes, and probably the second-most-famous brand, Rice Krispies. The latter of those two has remained largely untouched since it was created in 1928.
But now, the "Snap, Crackle, and Pop" brand is getting its first makeover in a LONG time, and it's quite colorful, and will be part of a new initiative being rolled out by Kellogg's.
Kellogg's Rice Krispies will now have a Rainbow Variety. The Rainbow Krispies will promise to pack a fruity punch in every spoonful, according to the Battle Creek Company, and is the first time any flavor, besides chocolate, has been introduced into the cereal.
"With a brand-new shape and six vibrant colors, each delectable bite of Kellogg's Rainbow Krispies offers fans a treat for their senses with its fruity aroma and flavors."
In addition to changing up the flavor profile of the beloved brand, Kellogg's is using the Rainbow Krispies to kickstart their new initiative for a more healthy addition to their cereals - Vitamin D.
"When we discovered six in 10 Americans want to add more Vitamin D to their diets, we knew infusing this key nutrient into a fun, delicious breakfast option would be a great way to solve this need for many of our fans. Whether you're looking to increase your daily Vitamin D intake, or hungry for a tasty bowl of colorful goodness, Kellogg's Rainbow Krispies are here to add a boost to even the most mundane mornings!"
One thing people were asking online about the rollout of Rainbow Krispies, was
if there was a tie-in for support of the LGBTQ+ community.
That's not to say they aren't supportive, because, in 2020, they did release the Kellogg's "Together With Pride" cereal that had spoonfuls of heart-shaped pieces in varying colors. The branding showed images of all Kellogg's main brands' mascots all together, and each box sold donated $3 to GLAAD.
Kellogg's continues to be one of the largest charitable companies in the world, with the W.K. Kellogg foundation funding hundreds of millions of dollars every year in grants and programs.
It's no surprise that Kellogg's is such a progressive company, given the momentum W.K. Kellogg injected into the company during his final years. But I'm sure, if you could ask his brother, John Harvey Kellogg, he might have a different opinion on how his company is being run today.
See what I mean in the gallery below, and how different the two brothers really were.
The Different Lives of W.K. and John Harvey Kellogg
The two brothers, and founders of Kellogg's, started the company together, but led quite different lives.
The former summer home of cereal tycoon W.K. Kellogg
Villa Marina in Dunedin Isles, the former summer home of cereal tycoon W.K. Kellogg.