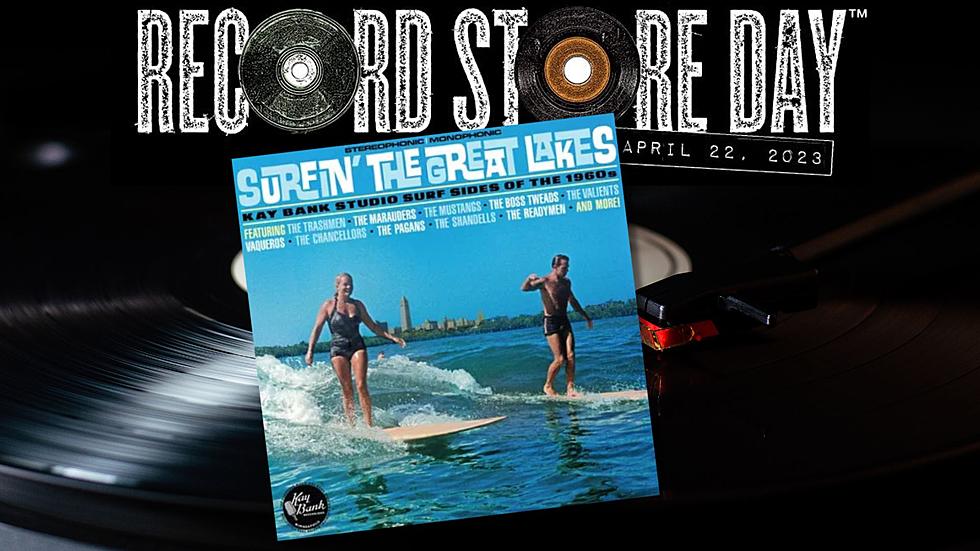 Record Store Day Will Have 'Surfin' The Great Lakes' Album On Shelves
Wikipedia/Canva
Saturday is going to be a fun day. Record Store Day is a big one for collectors of all things vinyl. And with the recent increase in album sales, it's only getting bigger. The day is a unique way for artists to release some rarities, and special items for fans that you can only get in a limited quantity.
This year, there's something that fans of the Great Lakes area might want to keep an eye out for, especially if you grew up in the area around the 1960s - "Surfin' the Great Lakes: Kay Bank Studio Surf Sides of the 1960s."
This is the first time this collection of songs and artists will ever be released on vinyl, and across the country, there will only be about 1200 copies on shelves.
The description is as follows:
"Board bustin banshees from landlocked America! Surfin' the Great Lakes takes a largely instrumental spin through surf rock and surf themed gems. It's a massive swell of great music from Minneapolis' Kay Bank Recordings in the '60s!"
The studio is in Minnesota, but the music is from bands all over the Great Lakes, some of them covering classics from the surf-rock era. You'll recognize The Mustangs, The Satisfactions covering some Beach Boys B-side tracks, and of course... the legendary Chuck Berry!
"This sonic tsunami of West Coast surf and R&B music from pasty Midwestern youth is largely tunes that floated below sea level for over 50 years but also some surf greats like The Vaqueros' cold water longing for an "80-foot wave."
Also, the album comes in seaglass blue vinyl, so it'll look like the Great Lakes while it's spinning on the turntable.
Keep an eye out for it on Saturday, and for all other Record Store Releases, check out the list, and find your closest record store that's participating.
Rock's Most Hated Records
You many not break into Hulk-sized fits of anger while revisiting these records, but we advise a calming drink beforehand all the same.
A Brief History of Recorded Music Formats
Music formats from yesteryear's first wax cylinders to today's modern streaming services…