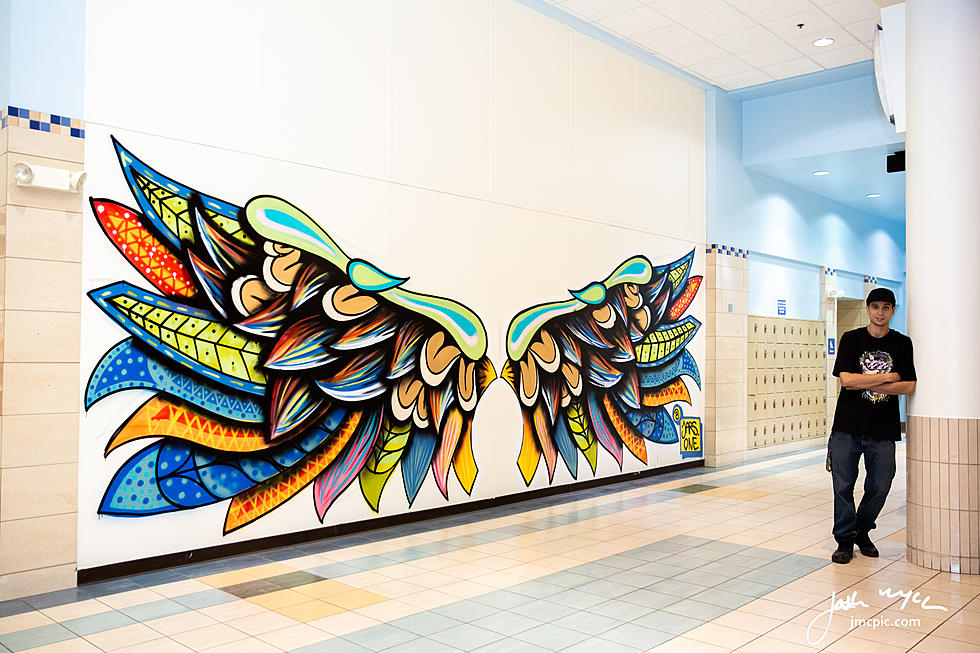 Winning Artist For Lakeview Square Mall Mural Chosen
Jar Ones standing next to his mural at Lakeview Square Mall
Lakeview Square Mall
 has a new mural from an emerging local artist. 
After dozens of submissions,
 J
ars One was chosen as the winner of its angel wings mural art contest, which began back in July. 
Last week, Jars One completed his angel wings painting in an approximately 9-foot high by 26-foot wide section around the corner from Buffalo Wild Wings near Sweets and Meats. According to the mall, his 'angel wings' mural will be visible on the wall indefinitely.
"We thought this would be a wonderful visual opportunity, connecting the community with emerging artists from the surrounding areas," "Jars One is a talented, up-and-coming artist, and his piece provides a vibrant pop of color. We hope Lakeview Square Mall visitors will take part in the contest that we are launching this week." - Brittney Gaskell, Lakeview Square Mall's local leasing representative with GK Development.
Jars One discovered his love for art 12 years ago while doodling cartoons on his schoolwork. Eventually, his love for art expanded as he learned to make stencils and spray painted designs on t-shirts. His favorite type of art is graffiti art since it has many various styles and ways to create it.
"I have always been inspired by different types of art, and I have been trying to get more involved with art over the last few years," said Jars One, whose 

dream is to make murals for businesses.
Local artists who took part in the campaign were required to submit a full-color rendering of a set of angel wings with the intended media type listed. Jar One's work will be featured on social media platforms, including the mall's website.