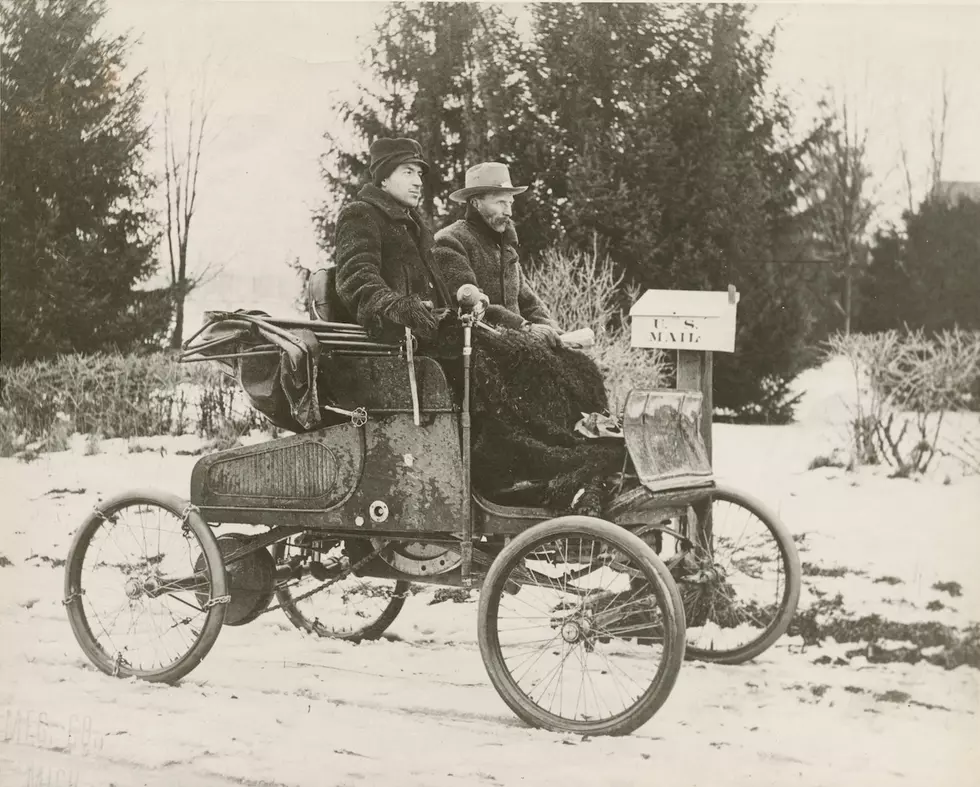 1902 Headlines: Could Automobiles Eventually Deliver Mail In Michigan?
Courtesy: Grant Snedeker Collection, Bentley Historical Library U of M
Mail delivery has seen a multitude of forms over the course of history in the United States. The United States Postal Service was established in 1775 with Benjamin Franklin (is there anything this man didn't do?) as the Postmaster General.
By the early 1830s, mail was being delivered by locomotives. Of course, there was the Pony Express with its short run of mail delivery by horseback through what was still a vast wilderness in the west. Otherwise, foot soldiers and horse drawn carriages made the routes to get people their mail until 1899. That's when automobiles first were utilized for delivery.
So when did it start in Michigan? Several experimental routes took place in the early 1900s. A photo from December 1902 posted on the Facebook group Michigan Photos shows the trial of an automobile for Rural Free Delivery service in the city of Adrian in Lenawee County. Page Administrator Dan Barber provided the information, saying the driver was Will Blain and that mail carrier next to the delivery box was W. C. Moran.
Barber reports the vehicle was a Murray Automobile, designed by Willis Murray and produced by Church Manufacturing Co. of Adrian. This car maker borrowed heavily, sold very few cars, and turned to making wire fences instead a few years later.
The mail service expanded greatly after experimental routes of 1902-03 in southern Michigan. But for some years afterward, mail to rural areas was done by a horse in front of a buggy or sleigh.