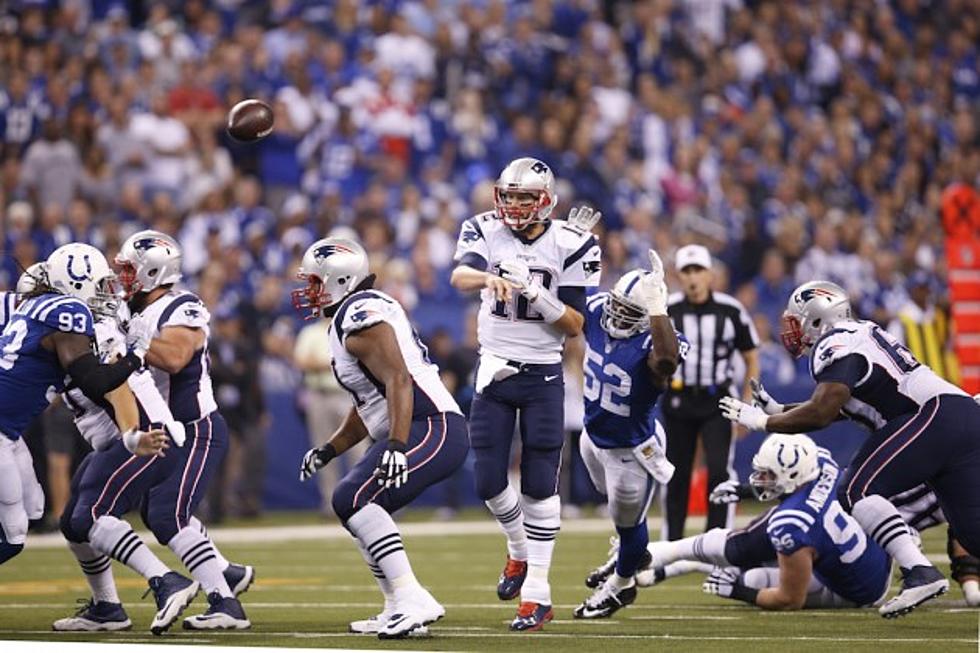 NFL Week 6 Recap: Unbeaten Teams Ruled on Sunday & Other Things We Learned
Getty Images
It wasn't always easy, but the five unbeaten NFL teams who played on Sunday won their respective games. Here's what we learned in Week 6 of the 2015 NFL season:
The Patriots Took the Air Out of the Colts in the Second Half
After an intense first half with five lead changes, the Patriots pulled away from the Colts, 34-27, in Indianapolis on Sunday — much like they did in last season's AFC Championship Game. New England (5-0) remained unbeaten with the win.
Tom Brady threw for 311 yards and three touchdowns, including two in the second half when Indianapolis (3-3) faltered after leading 21-20 at halftime. A special teams gaffe hurt Indy; the Colts failed miserably on a fake punt in the third quarter, though they may have just been trying to draw the Patriots offside. Brady passed to LeGarrette Blount for a New England touchdown six plays later, and the outcome of the game was all but decided.
Indianapolis quarterback Andrew Luck, who started Sunday after missing the previous two games with a right shoulder injury, threw three touchdown passes, but he wasn't able to rally his team to victory. Luck fell to 0-5 lifetime against the Patriots.
The Perfect Panthers Lead the NFC South
Heading into Week 6, the NFC South was the only division in the NFL with two undefeated teams. Now it has just one.
Cam Newton threw a 26-yard, go-ahead touchdown pass to tight end Greg Olsen with 32 seconds to play, and the Carolina Panthers beat the Seahawks, 27-23, in Seattle on Sunday afternoon. Newton led Carolina (5-0) on four 80-yard touchdown drives. He also ran for a touchdown. Panthers running back Jonathan Stewart ran for 78 yards and two scores, overshadowing the return of Marshawn Lynch to the Seahawks backfield.
Russell Wilson threw for 239 yards and ran for 53 more for Seattle (2-4), but Newton didn't leave him enough time to rally his team to victory.
Carolina's big win coupled with Atlanta's 31-21 loss to New Orleans on Thursday means the Panthers are alone at the top of the NFC South. The teams don't meet until December.
The Packers & Broncos Barely Remained Unbeaten; the Bengals Coasted
The NFL's other three unbeaten teams stayed that way on Sunday, but two of them almost picked up their first loss.
The Packers stopped the Chargers on fourth-and-goal from the 3-yard-line with 15 seconds to play, and Green Bay beat San Diego and Philip Rivers, 27-20, at Lambeau Field on Sunday. Packers cornerback Damarious Randall broke up a pass intended for Danny Woodhead to seal the win for unbeaten Green Bay (6-0).
San Diego (2-4) nearly forced overtime thanks to Rivers, who had 43 completions on 65 attempts for 503 yards passing — all career highs. He threw two touchdown passes. Chargers receiver Keenan Allen had 14 receptions for 157 yards.
The Broncos remained perfect on the 2015 season despite quarterback Peyton Manning's continued poor play. Manning threw three interceptions, but Denver (6-0) beat the Browns, 26-23, in overtime in Cleveland on Sunday. As bad as Manning was, the Browns couldn't keep him from leading the Broncos into range for Brandon McManus' game-winning 34-yard field goal in overtime.
Cleveland (2-4) looked to be in line for the win when Karlos Dansby nabbed his second interception of Manning on the day and returned it for a score to give the Browns a 20-16 lead in the fourth quarter. However, Manning tossed a 75-yard touchdown pass to Emmanuel Sanders on the next play from scrimmage. Cleveland tied the game with a late field goal, but the Browns couldn't get the win.
Cincinnati had an easier time staying unbeaten. Andy Dalton threw for 243 yards and three touchdowns and the Bengals beat the Bills, 34-21, in Buffalo on Sunday. Cincinnati (6-0) won even though Pro Bowl receiver A.J. Green was limited to 36 receiving yards. Marvin Jones picked up the slack for the Bengals with a career-high nine receptions for 95 yards and a score.
Buffalo (3-3) lost defensive tackle Kyle Williams and receiver Sammy Watkins to injuries in the game. They joined starting quarterback Tyrod Taylor on the Bills ever-growing injured list.
Exit Michael Vick, Enter Landry Jones in Pittsburgh…Wait, WHO?
Maybe Ben Roethlisberger shouldn't rush back after all. Steelers third-string quarterback Landry Jones threw two touchdown passes to Martavis Bryant after second-string QB Michael Vick left with a hamstring injury in the second half, and the Steelers beat the Arizona Cardinals, 25-13, in Pittsburgh on Sunday.
The Steelers offense, which has struggled since Vick took over after Roethlisberger was injured in Week 3, rallied past Arizona (4-2) under Jones; they outscored the Cardinals 22-3 after he entered the game in the third quarter. Jones completed 8 of 12 passes for 168 yards, including scoring strikes of eight and 88 yards to Bryant. Pittsburgh (4-2) has lost just once since Roethlisberger's injury.
The Lions Won't Go Winless Again
Matthew Stafford threw for 405 yards and four touchdowns, and Matt Prater's 27-yard field goal in overtime led the Lions over the Chicago Bears, 37-34, in Detroit on Sunday. Prior to OT, the Lions looked to have squandered their first win of the 2015 season. They allowed Jay Cutler to direct Chicago (2-4) on a drive for a game-tying field goal after Detroit (1-5) had scored a go-ahead touchdown with under 30 seconds to play. But, in a game between two bad football teams, the Lions were a little less ugly in the overtime.
The win means the Lions won't relive 2008's 0-16 season, but they aren't exactly in the playoff hunt.
Other Scores
Thursday, Oct. 15
New Orleans 31, Atlanta 21
Sunday, Oct. 18
Minnesota 16, Kansas City 10
N.Y. Jets 34, Washington 20
Miami 38, Tennessee 10
Houston 31, Jacksonville 20
San Francisco 25, Baltimore 20
Bye Week: Dallas, Oakland, St. Louis and Tampa Bay