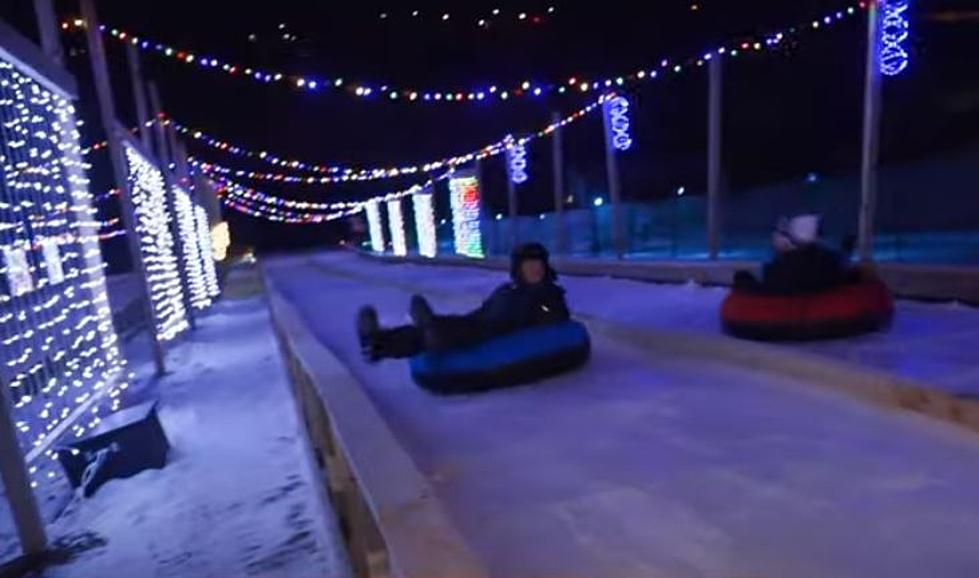 23 Places to Go Night-Tubing in Michigan
MLive via YouTube
It's more fun in the dark. Here's where to go to experience snow tubing at night. We'll what to expect and how much it will cost.
Sledding has changed a lot since we were kids. The kings of the neighborhood hill can now fly down the runs at many Michigan ski resorts. The equipment is basically the same, although there are a few toboggan runs where you can go super-fast. The best improvement of all time might be the tow rope, so you don't have to walk back up the stupid hill every time you get to the bottom. Today, your mom doesn't yell your name out the backdoor when it's getting dark and it is time to come home. In fact, tubing in the dark just may be the most fun of all. So, layer up and check out these 23 places in Michigan for winter snow tubing at night.
West and Southwest Michigan
Cannonsburg Ski Area | Belmont
This popular ski resort has fun tubing lanes, and a magic carpet to get you back to the top
Rentals are in 2-hour increments: $18/weekday $23/weekend or holiday
Double JJ Resort | Rothbury
Fly down a 660' run before grabbing the tow rope to go back to the top and do it again
$15 per person in 3-hour time blocks
Echo Valley | Kalamazoo
This is the one people always talk about
Reach speeds of up to 60 mph on their toboggan run
Tow ropes and 3 snow machines
Open Saturday 10-6, Sunday Noon-6
Tobogganing and tubing $25
Five Pines Ministries | Berrien Springs
This property just northwest of Berrien Springs is only open until 5 or 5:30, but with sunset times during a Michigan winter, you can still make some runs in the dark down their 5-lane, 400' hill
Tubing is $11/person. Cross country ski packages are available
Timber Ridge Ski Area | Gobles
Take the moving sidewalk to the top and choose any of 9 tubing lanes
Runs are open until 9 pm Wed, Thur and Fri
$25 for 2 hours
Mid-Michigan
Burchfield Park | Holt
Two sledding hills in this park, with one reserved for little kids
Tube rentals are just $3, and a vehicle permit or fee is required for this Ingham County park
Hawk Island | Lansing
A "magic carpet" uphill conveyor lift transports riders to the top of the hill, where they then drop 50-60' over a 500-600' run
Snow-making machines add to the fun and you can gather around one of the outdoor fires afterward
Tubing is $10 for 2 hours, and a vehicle permit or fee is required for this Ingham County park
Limited capacity
Midland City Forest | Midland
They have a sledding hill, but it is the 4 snow-packed, iced and elevated toboggan runs that are a fan favorite
7.5 miles of groomed cross-country ski and snowshoe trails
13 miles of mountain bike trails
Ice skating rink
No charge to enter the park
Rolling Hills Winter Park | Washtenaw County
Tubes rent for $5/hour and a vehicle permit or fee may be required for this county park
The hill is open until 9 pm when weather permits
Snow Snake Ski & Golf | Harrison
Winter fun at this resort includes skiing, snowboarding, and tubing
The $18 an hour price tag is on the higher end, but there is a lift, and those giant 3-person tubes
Open until 9 pm on Fridays and 7 pm Saturday nights
Metro Detroit
Bower's Farm | Bloomfield Hills
This is the one!
More than just a few lights on poles like in a parking lot, this hill is decorated and brightly lit- it's almost like a Christmas drive-through display or disco bowling
The hill has a "snow carpet" to make for excellent conditions, but you have to walk up the hill
Tube rentals are $14 per 50-minute hour
Open Fridays and Saturdays until 10 pm
Up North
Boyne Mountain Ski Resort | Boyne Falls
This top-notch tube park is open until 9
One hour: $29/weekdays, $34 Saturdays and holidays
Hanson Hills Recreation Area | Grayling
$14 per one-hour session
Open until long after dark
The Highlands at Harbor Springs | Harbor Springs
Formerly Boyne Mountain, this gigantic hill is an 800' run
$29/hour, open until 8 Friday and Saturday
Mt. Holiday | Traverse City
$15/hour
Open late on weekends
Otsego Resort | Gaylord
$20 for a 1-hour session, only 410 with lift ticket
Mt. McSauba | Charlevoix
A small ski area, snowboarding, cross-country trails, an ice rink, and a lighted sledding hill
Fees apply for lift tickets and equipment rental, your recreation passport gets you into the area for free
Shanty Creek Resort | Bellaire
Alpine tubing, dog sledding, cross-country skiing, snowshoeing and fat tire biking are fun winter activities to enjoy
Tubing is $20/hour
Timberlee Hills | Traverse City
$15/hour tubing
$22 one hour glow tubing at 9 or 10 pm
Treetops Resort | Gaylord
Sidewinder and Thunderstruck are the two extreme tubing runs
Prices vary considerably
Way Up North
Big Valley Ski & Tube | Newberry (UP)
Mt. Zion Rec Complex | Ironwood
Ski Brule | Iron River
A couple of things to keep in mind before you head out: Opening dates and operating hours are always subject to weather conditions. Many areas are requiring online reservations and some resorts are selling tickets online only. Click each name for a link to the tubing page that should tell you everything you need to know.
Crisp photos from a peaceful snowshoe hike in the northern Michigan woods after a fresh snowfall
One of Michigan's most beautiful state parks looks enchanting under a blanket of fresh snow. Brian Wellwood documented his snowshoe trek on the Old Growth Forest and Au Sable River trails at Grayling's Hartwick Pines State Park.
All 83 Michigan Counties Ranked On The Amount Of Snow Per Year
Ever wonder where the worst places in Michigan are for snowfall? What about the places that aren't so bad for snow? This might affect your next move... Given, you won't see lightning strike in the same place twice, you can't be promised a lack of snow. We have all 83 Michigan counties ranked in order,
based on data collected
throughout the years.