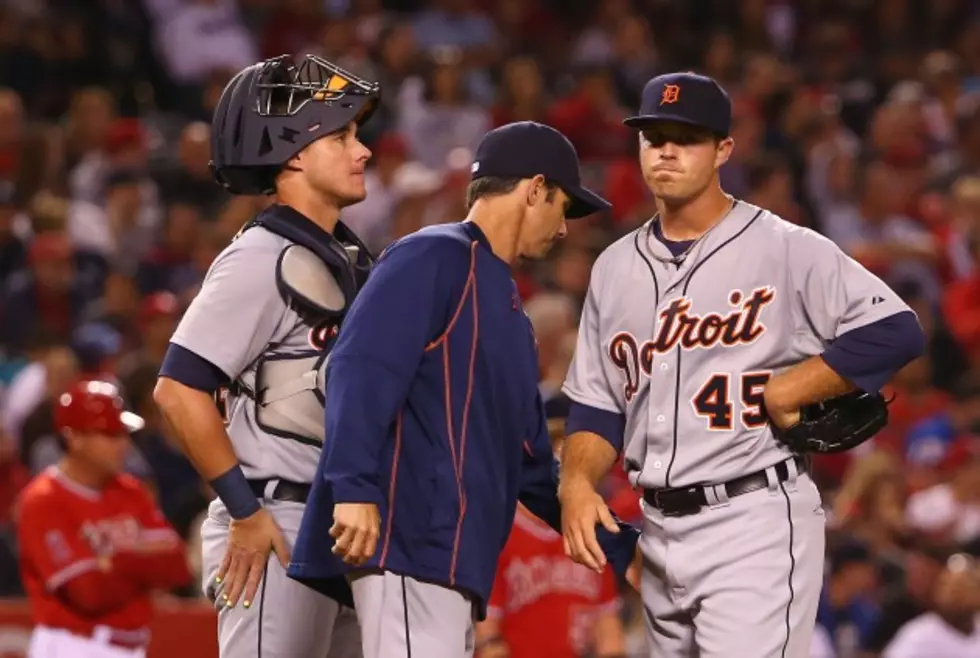 Sports: Tigers Bombed 12-2
Photo by Victor Decolongon/Getty Images
(Source: Michigan Radio Network, Associated Press)
The Detroit Tigers fell to the Los Angeles Angels last night 12-2 in the first of a four-game set in LA.  Chris Iannetta hit a grand slam, and Albert Pujols and Matt Joyce also homered for the Angels, as they combined for 13 hits.  Buck Farmer gave up seven runs and nine hits to take the loss in his first start of the season for the Tigers. James McCann had two of Detroit's five hits.  Jose Iglesias doubled in a run.  The two teams play game two of their series tonight. Anibal Sanchez will pitch for Detroit. Broadcast time is 9:40 p.m. on WBCK.
The Battle Creek Bombers beat the Kalamazoo Growlers 5-2 Thursday at C.O. Brown Stadium.   Matt Simmons hit a home run and knocked in two runs, as the Bombers scored all five in the first three innings.   Edgar Sanchez went six innings and gave up just one earned run for the win. Battle Creek plays the Growlers tonight and Saturday in Kalamazoo.
The Grand Rapids Griffins lost game three 4-1 to the Utica Comets.  Sven Baertschi's natural hat trick propelled Utica to a 2-1 lead in the Western Conference Finals.
The Griffins, who hadn't played at home since Game 2 of the conference semis against Rockford 20 days ago, host Game 4 tonight at 7:00 p.m.   Game five will also be at Van Andel Arena in Grand Rapids on Sunday.
The U of M baseball team starts NCAA Tournament play at the Louisville Regional.
The Wolverines play on this afternoon against Bradley at 2pm.
The No. 3-seeded University of Michigan softball team used stingy pitching and a pair of home runs to knock off No. 5 Alabama, 5-0, in its opening game of the Women's College World Series on Thursday night in Oklahoma City. U-M will play again tonight against No. 7 UCLA.
The Battle Creek Coyotes football team plays the West Michigan Hawks in the regular season opener at 7:30 this Saturday at C.W. Post Field.   Proceeds from the games help families and individuals fighting cancer in our community.  This week's beneficiary is eight year old Maddux Hescock.
Saturday at C.W. Post Field
•Michigan Vipers vs. Michiana Thunderhawks, 12:30 p.m.
•Michigan Lightning vs. Marion County Crusaders, 3:30 p.m.
•Battle Creek Coyotes vs. West Michigan Hawks, 7:30 p.m.
Admission: $5 per game, $10 for all three games.
KCC Out of Baseball Series
KCC was knocked out of the NJCAA World Series after a 12-10 loss Thursday vs. University of Connecticut at Avery Point.
The Rangers and Lightning will meet in Game Seven of the East finals tonight in New York. Anaheim will host the Blackhawks in Game Seven on Saturday.
Grand Haven native Dan Bylsma is back in the NHL coaching business with the Buffalo Sabres.  Bylsma was a player in the NHL for nine seasons and won a Stanley Cup in 2009 as coach of the Pittsburgh Penguins until being fired last year.
The NBA Finals matchup is set.  It'll be Golden State and Cleveland. Game One is in Oakland on June 4th.
The Chicago Bulls fired head coach Tom Thibodeau on Thursday.  Thibodeau spent the past five seasons as the team's head coach and led the Bulls to a record of 255-139. Chicago reached the playoffs in each of his five seasons.
Auto racing is back in Detroit as the grand prix roars on Belle Isle this weekend. During free prix day today, fans will be able to watch teams take practice laps.
Gull Lake beat Plainwell 2-1 to advance to the district finals Saturday at noon against Thornapple Kellogg.
Marshall beat Eaton Rapids 4-0 and play Mason at 11am Saturday in Eaton Rapids.
K-Christian beat the Calhoun Christian/St. Phillip team, 8-0.
Delton-Kellogg lost to Grand Rapids South Christian, 4-0.
Climax Scotts hosts Bellevue today.
Harper Creek hosts Pennfield at noon.
Homer advances to play Jonesville.
Delton hosts Galesburg-Augusta.
Lakeview is at Grand Ledge.
Gull Lake plays at Portage Northern.
Climax-Scotts is at Bellevue.
Harper Creek at Pennfield.
Tiger Tracker….brought to you by Michigan Tile and Carpet and by Moonraker West.
The Tigers find themselves in third place in the Central Division, 1 ½ games behind the Royals and Twins….that's right, I said Twins.   The Tigers have had to battle injuries to the starting rotation, but the main problem has been a lack of hitting.   Still, Detroit has the fourth best record in the American league at 28-21.  The Tigers send Sanchez, Greene and Price to the mound against the Angels this weekend to finish off the road trip. They're off Monday and host Oakland on Tuesday.