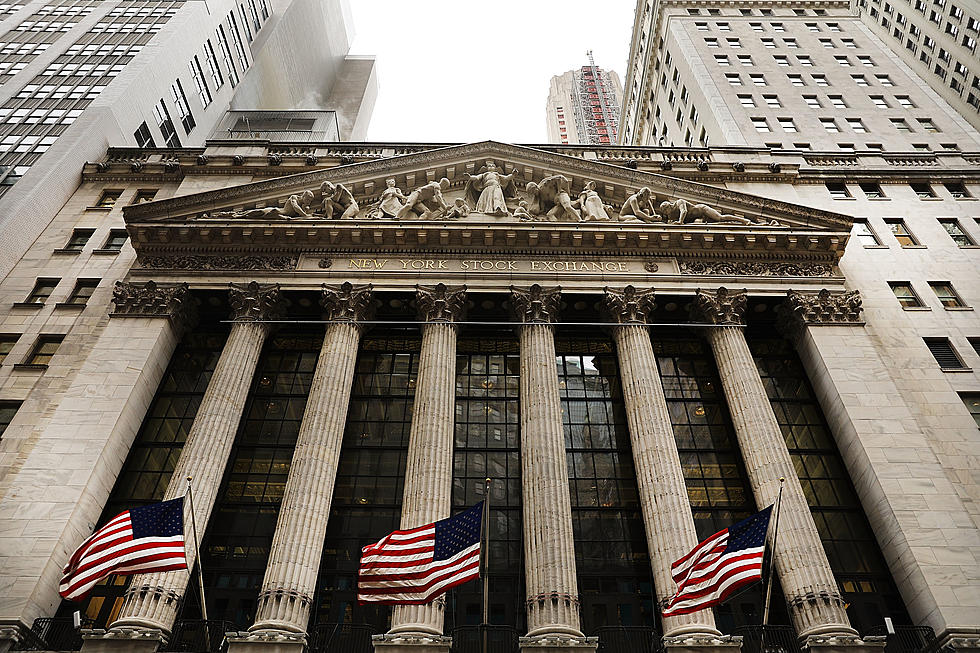 Wall Street Dips as Markets Drop Worldwide
Getty Images
NEW YORK (AP) — A worldwide swoon for financial markets is carrying over to Wall Street, and stocks are slipping further on Wednesday.
The S&P 500 was 0.6% lower in early trading, a day after dropping 1.1% as the U.S. government creeps closer to a possibly disastrous default on its debt. The Dow Jones Industrial Average was down 152 points, or 0.5%, at 32,902, as of 9:45 a.m. Eastern time, while the Nasdaq composite was 0.6% lower.
Other markets around the world were hit even harder as discouraging figures piled up on the economy. Stock indexes tumbled 1.9% in London, 1.8% in Frankfurt and 1.6% in Hong Kong.
Inflation in the United Kingdom remains worse than expected, raising worries that the Bank of England may keep hiking interest rates and squeezing its economy. In Germany, business confidence fell in Europe's largest economy. And in China, worries remain about a weaker-than-hoped reopening from COVID restrictions as tensions rise with the United States over technology and security.
On Wall Street, the focus is squarely on Capitol Hill and the White House, where the latest battle between Democrats and Republicans is threatening to cause the nation's first-ever default on its debt. The U.S. government could run out of cash to pay its bills as soon as June 1 unless Congress allows it to borrow more, and the widespread expectation is that a default would result in tremendous economic pain.
The stock market for the most part has remained resilient despite the worries. Fear has been concentrated mostly in corners of the bond market, where prices have dropped for Treasury bills due to pay out around the possible date of default.
That's largely because the widespread belief on Wall Street has been that Congress would come to an agreement at the 11th hour, as it's done several times before, because a default would benefit no one. But fear is rising that Congress may not feel urgency to act unless markets fall sharply enough to force politicians' hands.
A measure of fear among stock investors on Wall Street rose 6.7% and is approaching its highest level since March. That's when worries were flaring hottest about the strength of the banking system, as it creaked under the weight of much higher interest rates.
The Federal Reserve has yanked interest rates up at the fastest pace in decades in hopes of getting high inflation under control. High rates do that by putting the brakes on the entire economy and hurting prices for stocks, bonds and other investments.
Traders are hopeful just one more hike may be on the way this summer, if any at all. The Fed may offer more clues on its intentions after it releases the minutes from its last policy meeting in the afternoon.
Helping to limit Wall Street's losses were several companies that reported stronger results for the start of the year than analyst expected.
Kohl's jumped 13% after reporting a surprise profit for its latest quarter, helped in part by momentum at its Sephora beauty shops. Analysts had expected it to turn in a loss.
Resilient spending by U.S. consumers has helped to keep the economy out of a recession even as manufacturing and other areas struggle with higher interest rates. With the job market remaining solid, economists at Goldman Sachs said they expect consumer spending to remain a source of strength for the economy through this year.
Homebuilder Toll Brothers rose 2.1% after reporting much better results than analysts expected for the latest quarter.
Most companies have been topping expectations for the first quarter of the year, but much of that is because analysts set the bar particularly low. S&P 500 companies are still on track to report a second straight quarter of weaker profits from year-ago levels.
On the losing side, Intuit fell 6.6% after the company behind TurboTax reported weaker revenue than expected for the latest quarter.
In the bond market, the yield on the 10-year Treasury fell to 3.68% from 3.70% late Tuesday. It helps set rates for mortgages and other important loans.
The yield on the two-year Treasury, which moves more on expectations for Fed action, fell to 4.29% from 4.33%.
——
AP Business Writers Matt Ott and Joe McDonald contributed.