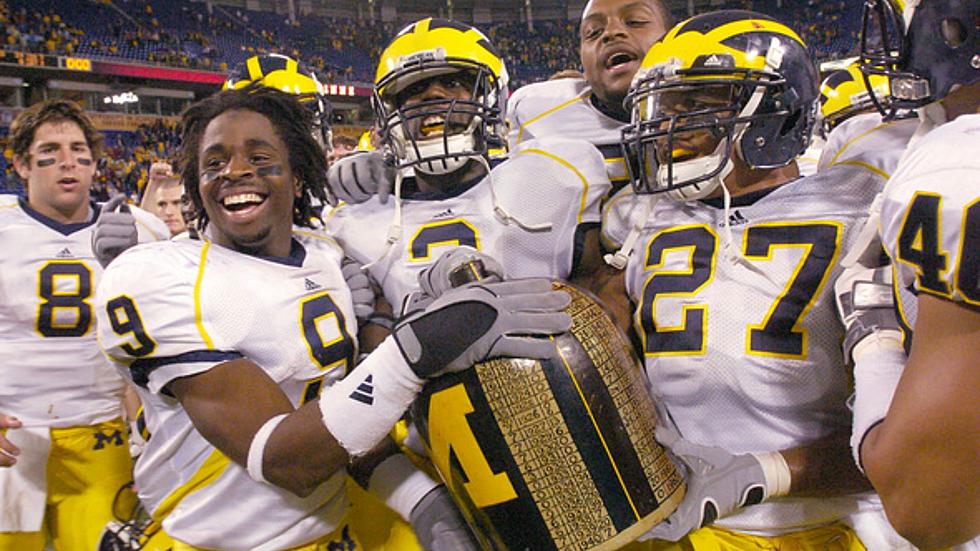 Oldest Traveling Rivalry Trophy Little Brown Jug: Michigan v Minnesota
5thDownCFB Twitter
Rivalries have been going since the beginning of time, Cain and Abel, Romans and Greeks, Americans and England, etc. Those may have a bit larger implication than sports rivalries but the passion in which these rivalries exist is real and raw. From middle school on, we are exposed to rivalries between schools, sports teams, celebrities, and more.
Sports are where we are most likely to see rivalries play out in our present-day world and its one of the best feelings ever. Whether you're a coach, player, fan, parent, or connected in any other way the adrenaline in a rivalry game is just different. All over the country there are numerous traveling rivalry trophies, but Michigan is credited with the first.
Minnesota was one of Michigan's biggest rivals at the time and they were responsible for 6 of the 12 points in a 23-6 loss to Michigan the previous season. Henry Williams, a Yale graduate coached the Gophers and were 10-0 entering the Michigan game in 1903. Once Michigan arrived at Northup Stadium things turned sour.
By the time the field was cleared it was too dark to continue so they agreed to end the game in a tie and share the Big Ten Title. Michigan would rush off the field to catch their evening train home and avoid the rushing fans. In the midst of the chaos the manager left the jug behind, leading to the janitor finding it.
Michigan Football has some of the biggest and best rivalries in all of the country when you think about Ohio State, Minnesota, Notre Dame, and Michigan State. We're so lucky to be Michigan Wolverine Fans, who's your favorite to see them play?
The Ten Greatest Rivalries in College Football
These college football rivalries have stood the test of time.
15 Most Important Games In The Michigan vs Michigan State Rivalry
Michigan and Michigan State have been battling it out on the gridiron since 1898. You can imagine that playing each other for that long will lead to a pretty heated rivalry. The Michigan / Michigan State rivalry is one of the best in all of sports. There have been many moments that helped to build that rivalry over the years. Check out 15 of the most important games over the decades of the Backyard Brawl.
Gallery Credit: Getty Images