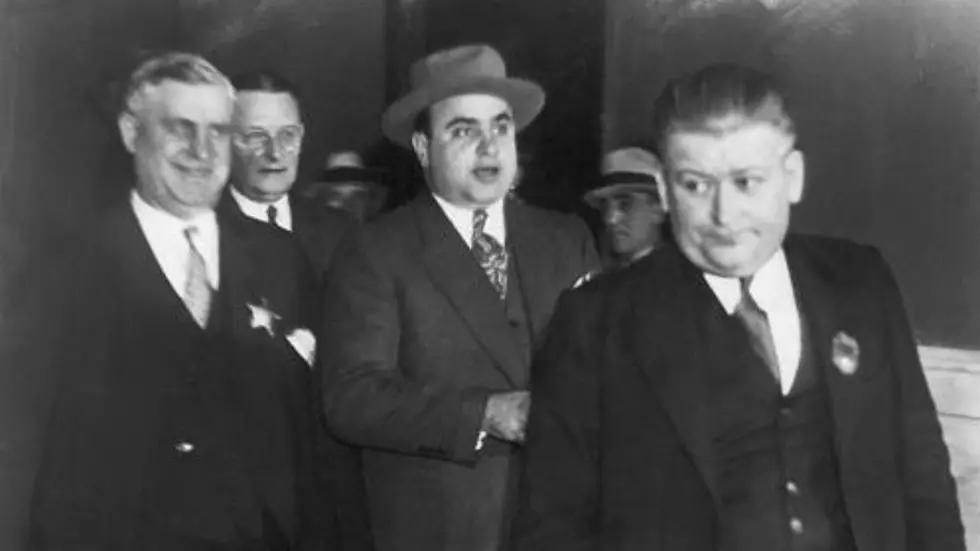 St Valentine's Day Massacre Connects St Joe Michigan & Chicago
Bettman Getty Images
Valentine's Day marks 94 years since seven men were violently gunned down in a parking garage in Chicago, but what does this have to do with St Joseph Michigan? Well, it's reported that someone involved in this incident was captured while hiding out in a St Joe safehouse.
It's said that the safehouse belonged to Fredrick Dane, an alias for Fred "Killer" Burke, a known associate of Al Capone. Burke had been in a drinking and driving altercation earlier that night killing Patrolman Charles Skelly, which led to Berrien County Sheriff's searching his bungalow. Now, how does all of this tie back to Chicago and Al Capone?
Al Capone is known for having safehouses scattered throughout Michigan and was known to visit frequently whether it was on business or to just escape the heat of the city for a little while. Many of his associates and other rival mobsters would do the same as they would meet up with gangsters from Detroit in Kalamazoo as a middle ground.
It's said that the Chicago St Valentine's Day Massacre was carried out by Al Capone himself, which many people deny saying it's too messy for Capone himself while Bugs Moran who lost seven of his men that day said, "Only Capone kills like that", but nothing was ever proven as there were also rumors that Chicago police were involved as retaliation for one of their sons being killed by the Moran gang.
This massacre went down at the now-demolished Lincoln Park Garage in downtown Chicago and although you can't view the building in its full form, there are said to be a few bricks on display in Vegas after they were purchased by a Canadian businessman.
Also, if you were hoping for a normal mobster ending where they get away with it because no one says anything, I'm sorry to kind of break your heart because that doesn't happen but it's not all bad either.
Burke was arrested and spent the rest of his life in prison as he died behind bars in 1940 after he was charged in Michigan for the murder of Charles Skelly, meaning the massacre was technically never solved and whoever gunned those men got away with it.
The Purple Gang
The Ideal Bar, Once Used By the Purple Gang for Rumrunning
This Lovely Home Once Belonged to a Real Life Michigan Gangster
You don't have to be a gangster to live in this Detroit home built in 1928, but it could bring peace of mind knowing that your house is 'gangster ready' in the event your life takes an unexpected turn.
According to the
Detroit Free Press
, this home located in the historic Palmer Woods residential district, once belonged to Joseph Burnstein. Burnstein and his brothers were notorious members of the Purple Gang in the 1920s, reputed for wreaking havoc in the city during Prohibition.
It's listed by Realtor.com for $749,000.