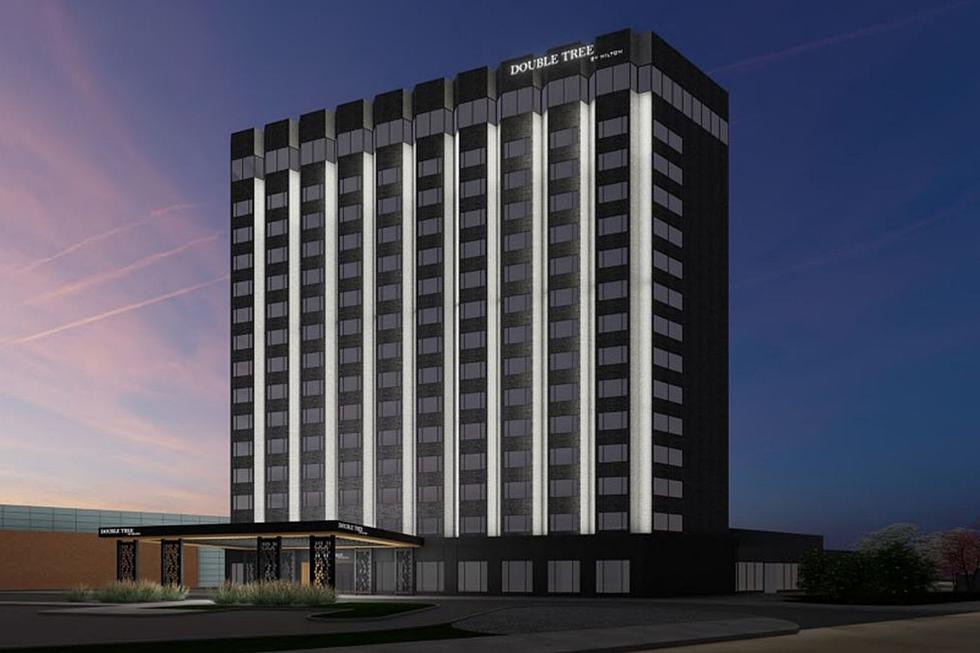 Battle Creek Unlimited Unveils $59 Million Plan for McCamly Plaza Hotel
Courtesy of Battle Creek Unlimited
Battle Creek Unlimited is unveiling plans for a major renovation and reimagined use of McCamly Plaza Hotel!
Battle Creek Unlimited (BCU) and 50 Capital Ave Development Corp., have unveiled the much-awaited plans and a timeline for the renovation of the former McCamly Plaza Hotel that will operate as a DoubleTree by Hilton and adjacent McCamly Place.
The newly released plans call for a $59 million overhaul of the 265,000 square foot complex and demolition of McCamly Place with a smaller building being built in its place. That work is expected to begin in April 2022.
The renovations will include complete upgrades to the mechanical and HVAC systems, in addition to five new elevators being installed. All guest rooms, lobby, ballroom, and meeting spaces will be brand new. The buildings will get new roofs, high-efficiency windows, and a refreshed exterior.
Among the exciting changes are a new restaurant with a farm-to-table menu, a new bar, and beer garden, and a new kitchen. The reimagined space will have over 24,000 square feet of meeting space. The hotel's 16th floor will feature a cocktail lounge with panoramic views of the city, complemented by three meeting spaces that can be configured for one significant event.
We are so excited to return this historic property to productive use. Having a hotel of this size and magnitude will significantly contribute to the economic vitality of downtown Battle Creek and the entire city. We cannot thank our partners and contributors enough for their continued support and generosity. This multi-faceted project will be a showpiece for our great city and will once again make Battle Creek a destination for entertainment and events. ~Joe Sobieralski, President and CEO of BCU
When done, the hotel will have 180,000 square feet of space and 239 guest rooms. The renovated hotel will operate as a DoubleTree by Hilton and be managed by 6PM Hospitality Partners. The hotel is expected to reopen in the third quarter of 2023.
The hotel will include a workforce training/educational component for the anticipated 165 operational jobs. This will be the first teaching hotel of its kind in the region. BCU will be working closely with our local/regional workforce and educational partners to create meaningful training and career opportunities for area residents and youth.
The 85,000 square-foot McCamly Place, which is separate from the hotel, will be demolished. Plans call for building approximately 19,745 square feet of new space. Demolition will not include Festival Market Square. The new space will consist of a ticket office for the Kellogg Arena, exhibitor space, bathrooms, a new restaurant, and an extension of the hotel lobby. It will also add outdoor green space to complement the existing Festival Market Square structure. Demolition is scheduled to begin in April 2022.
BCU says in a release that it is in the final stages of financing the project. This includes working with senior lenders and the Michigan Economic Development Corporation. Nearly $30 million in grants have already been secured.
Contributions have so far been made by: W.K. Kellogg Foundation; Miller Foundation; State of Michigan; City of Battle Creek American Rescue Plan Act (ARPA); Calhoun County ARPA; Kellogg Company; Calhoun County Visitors and Convention Bureau; Consumers Energy Foundation; Bronson Battle Creek Community Hospital-Community Partners; and BCU.
Have you ever wondered what the tallest buildings in Michigan are? Wonder no more...
Where are the Tallest 25 Buildings in Michigan? See Them All Here
Michigan is home to some massively tall buildings and almost all of them are in Detroit. Check out the 25 tallest buildings here.
Michigan Man Shares His Competitive Eating Challenges
Nathan Klein of Battle Creek, Michigan, has completed over 130 food challenges