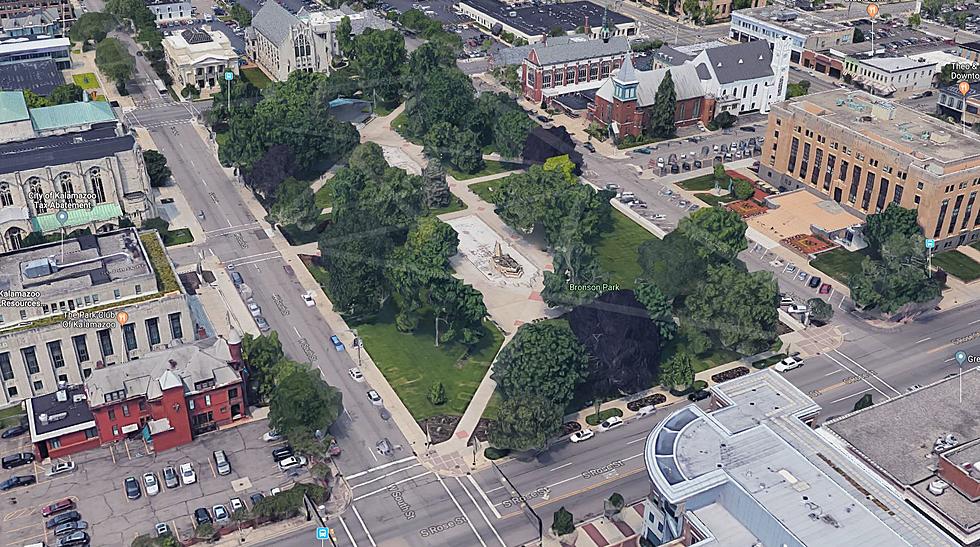 Fountain of the Pioneers To Be Removed After Kalamazoo Vote
Bronson Park in Kalamazoo (Credit: Google Maps)
MLive reports that the Kalamazoo City Commission was in session for hours, and finally voted after 1am Tuesday, to remove the Fountain of the Pioneers amid complaints over its alleged racist iconography. Opponents of the statue said that it celebrated the subjugation of the native people of the Kalamazoo area under colonialist expansion, while others said the statue should remain since it serves as an important reminder of history.
The fountain has been a topic of discussion for years, but the topic was revived last week when City Manager Jim Ritsema called for its removal.
The Kalamazoo Public Library says the fountain was designed by artist Alfonso Iannelli, and dedicated in 1940. It features a westward settler, with a Native American in a headdress standing face-to-face with the settler. Iannelli said at the time that the statue featured a native in "shown in a posture of noble resistance, yet being absorbed as the white man advances".
After the 5-1 vote, the Fountain of the Pioneers will be removed sometime this year. A new location for the statue has not yet been found; both the Kalamazoo Institute of Arts and Kalamazoo Valley Museum say they don't have the room for it.