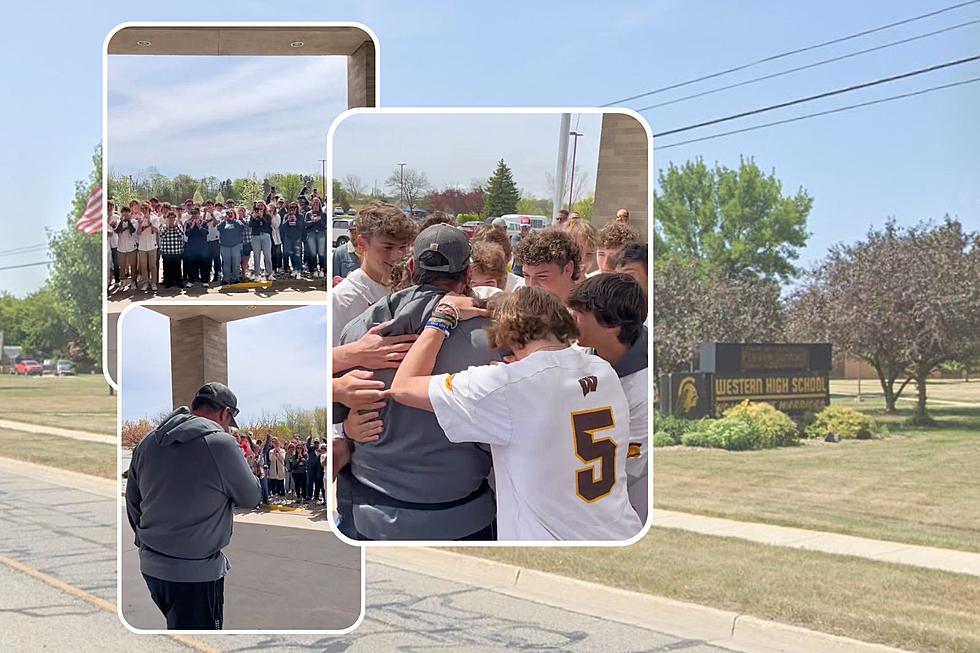 Michigan Students Cheer For Coach After Final Cancer Treatment
Via/ Google Maps, Via/ Canva, Via/ Tiktok
Well, doesn't this just warm your heart?
A group of high school students rallied to support and surprise a teacher who just completed his cancer treatments.
The teacher,  Brendan Harrison, is also a baseball coach at Bay City Western High School in Auburn, MI. Harrison, unfortunately, was diagnosed with colon cancer in October of 2022 as reported by sunnyskyz.com.
Harrison, or Coach Bubba as his team calls him, went through 12 rounds of chemotherapy to battle his disease. A battle that was successful. To celebrate his triumph, Coach Bubba's team decided to gather outside of the hospital where he was receiving treatments to surprise him on his final day.
Harrison's sister, Morgan, caught it all on video:
The entire team, and their parents, too, showed up to make sure Coach Bubba knew how appreciated he is even though they had a big game later that day:
Going through a cancer diagnosis and following treatment takes a toll on the body and mental health, too. I can't personally speak to the kind of support Harrison had throughout his treatment but, walking away from your final treatment only to be greeted by a cheering crowd has to feel good.
Colon cancer is a highly treatable and often curable disease when it's localized to the bowel with 1.5 million survivors in the United States. Early testing is key. Learn more about symptoms, preventative steps, and treatment here.
If you love heartwarming stories, you'll love this too. A local teacher decided to recruit his students to help him pop the question to his now fiance. Take a look:
Kalamazoo Central Teacher Enlists Students to Help With Proposal
Kalamazoo Central Teacher, Jovaughn Carver, organized an adorable proposal for fiance and Parkwood-Upjohn Elementary teacher, Sarah Townsend
School Bus Drives Thru Wet Concrete