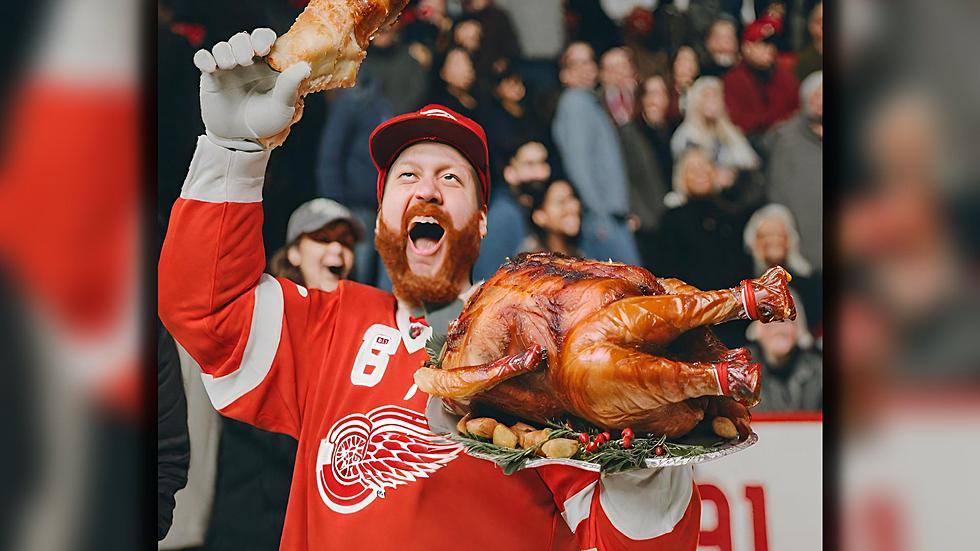 The Red Wings Are Giving Away Zamboni Gravy Boats For Their Thanksgiving Game
Canva AI
One of the best parts of sports isn't winning, contrary to popular belief. Yeah, Championships are cool, and hanging banners and pennants are exciting... but have you ever felt the rush of getting the most unhinged promotional item ever?
It's incredible when you get there early enough, and that free bobble head, towel, or hat is in your hand. Sometimes, though, you get a truly exceptional item, and the Red Wings are delivering this Thanksgiving.
On Wednesday, Nov. 22nd, the night before Thanksgiving, The Detroit Red Wings are ringing in the greatest food holiday of the year with a Gravy Boat giveaway promotional night. And this is no standard gravy boat... THIS... is a Red Wings-branded gravy boat, shaped like a Zamboni!
WHAT! Are you kidding me? I love me some bobble heads, and free hats, but this is unhinged, topical, and completely dysfunctional.
LOOK at that thing! It's square, so the gravy is going to go everywhere. I don't know what it's made of, but I'm sure the gravy will get cold within seconds... but seriously... THIS IS THE COOLEST PROMOTION EVER!!!
I have still yet to get to a Red Wings game this season, but Nov. 22nd might be my first one, JUST for the gravy boat. And I'm not even cooking for Thanksgiving this year.
The only drawback is, they're only giving out 7,500 of these, so make sure you're there early to get one before they disappear.
Other Upcoming Promotional Nights
As cool as the Zamboni gravy boat is, the Red Wings still have some pretty incredible promotional nights to come still.
Dec. 9th, they're giving out mini Mike Vernon Goalie masks for Mike Vernon Hockey Hall of Fame Night at Little Caesars. Dec. 22nd, it's Ugly Sweater night, and they'll be handing out 10,000 ugly sweaters in the stands.
There's the standard bobble head nights throughout the season as well, but keep your eyes toward the end of the season, especially if you're a Detroit loyalist. April 5th is Tigers Night, and they'll be handing out dual-branded Red Wings and Tigers hats.
Overall, if you like cool swag, it's a good year to be a Red Wings fan.
Every Sweater Number in Detroit Red Wings History Worn Just Once (Or Not At All)
For whatever reason, these numbers have either been worn just once or never at all in the nearly 100-year history of Detroit Red Wings hockey, according to Hockey Reference.
(Hockey Reference suggests that No. 6 was only worn by Cummy Burton, which is incorrect as Larry Aurie wore the number first and the number is pseudo-retired. Such inaccuracies are difficult to narrow down, so where they can be corrected they will be.)
Gallery Credit: Jacob Harrison
Every Detroit Red Wings First Round Draft Pick Since 2000
Take a look back at the Detroit Red Wings first round draft picks this side of the millennia.
Gallery Credit: Jacob Harrison