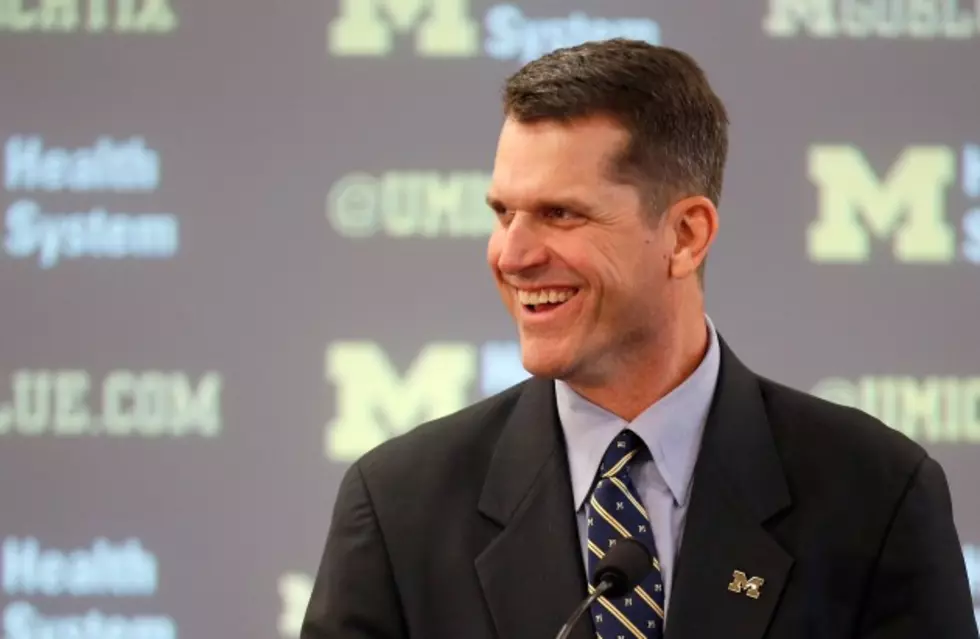 Jim Harbaugh On Leading Michigan Football: 'We're Going to Hit the Ground Running' [Video]
Jim Harbaugh speaks while introduced as the new head coach of the University of Michigan football team at the Junge Family Champions Center in Ann Arbor this afternoon. (Photo: Gregory Shamus/Getty Images)
Former University of Michigan quarterback and San Francisco 49ers Coach Jim Harbaugh is now back at his alma mater leading the Wolverines' football team.
That was made official with his unveiling at a noon news conference today at Junge Family Champions Center in Ann Arbor today, with U-M Interim Athletic Director Jim Hackett officially announcing the 51-year-old Harbaugh's hiring.
"I didn't make a pros and cons list," Harbaugh said. "I made a decision from the heart. ...
"We're going to hit the ground running."
"We are excited to have Jim come home and lead our football program into the future," Hackett said.
He signed a seven-year contract with U-M paying him initially what Hackett said Harbaugh was making annually with the 49ers, where he had a five-year, $25-million contract which was ended Monday after four years by San Francisco. Harbaugh is to make about $7 million in his first year, The Detroit Free Press reported.
The highest-paid coach in the Big Ten Conference in 2014 was Michigan State's Mark Dantonio, who made a reported $5.63 million. Meanwhile, Hoke reportedly made $2.3 million and an additional $3 million when his contract was bought out by U-M.
The decision to come to Michigan came "pretty quick," Harbaugh said. "It was within the past couple of weeks" and he signed his contract Sunday.
"It was something I dreamed about and ... I felt it was time to live it."
Harbaugh described himself in the news conference in architectural and construction terms, likening himself of a builder who builds new homes and then moves on.
"I think of myself as more of a construction guy," he said. "It's like a builder ... go build another one.
"Well, I felt like that again. You have to build some new homes, but you would really like to live in one permanently."
He returns to the college ranks after spending the past four years in the NFL.
Harbaugh was 49-22-1 in four seasons with the 49ers, including 8-8 this past season and a 34-31 loss to the Baltimore Ravens in Super Bowl XLVII in 2013. He was 29-21 in four seasons at Stanford University and 29-6 in three seasons at the University of San Diego. In addition to being quarterbacks coach two seasons with the NFL's Oakland Raiders, he was also an unpaid assistant for his father, Jack Harbaugh, at Western Kentucky for eight seasons.
The 20th coach in U-M football history, he becomes the sixth former Michigan player to be named the leader of college football's all-time winningest program.
"Top to bottom, Michigan is about excellence; is about greatness," he said. "And you have my pledge ... ."
A Michigan quarterback from 1983 to 1986 as a four-year letter winner, Harbaugh finished third in Heisman Trophy voting his senior year under U-M Coach Bo Schembechler. Jack Harbaugh was on Schembechler's U-M staff as a defensive coach from 1973 to 1979 and was Western Michigan's head coach from 1982 to 1986.
After graduating from U-M, Jim Harbaugh played 15 years in the NFL. The first-round selection of the Chicago Bears in the 1987 NFL draft, Harbaugh played seven seasons (1987-93) in Chicago, four at Indianapolis (1994-97), one in Baltimore (1998), two in San Diego (1999-2000) before retiring as a player with Carolina (2001).
He was named the AFC Offensive Player of the Year, NFL Comeback Player of the Year and a Pro Bowl selection after leading the Indianapolis Colts to the AFC Championship Game in 1995. He was inducted into the Colts Ring of Honor in 2005.
Harbaugh's brother, John, is head coach of the NFL's Baltimore Ravens; and his sister, Joanie, is married to Indiana University Men's Basketball Coach Tom Crean.
Harbaugh and his wife, Sarah, have two daughters, Addison, 6, and Katherine "Katie," 4, and a son, Jack, 2. He also has three children from a previous marriage, Jay, 25, a quality control and quarterback coach with the Ravens; James "Jimmy" Jr., 18; and Gracie, 14.