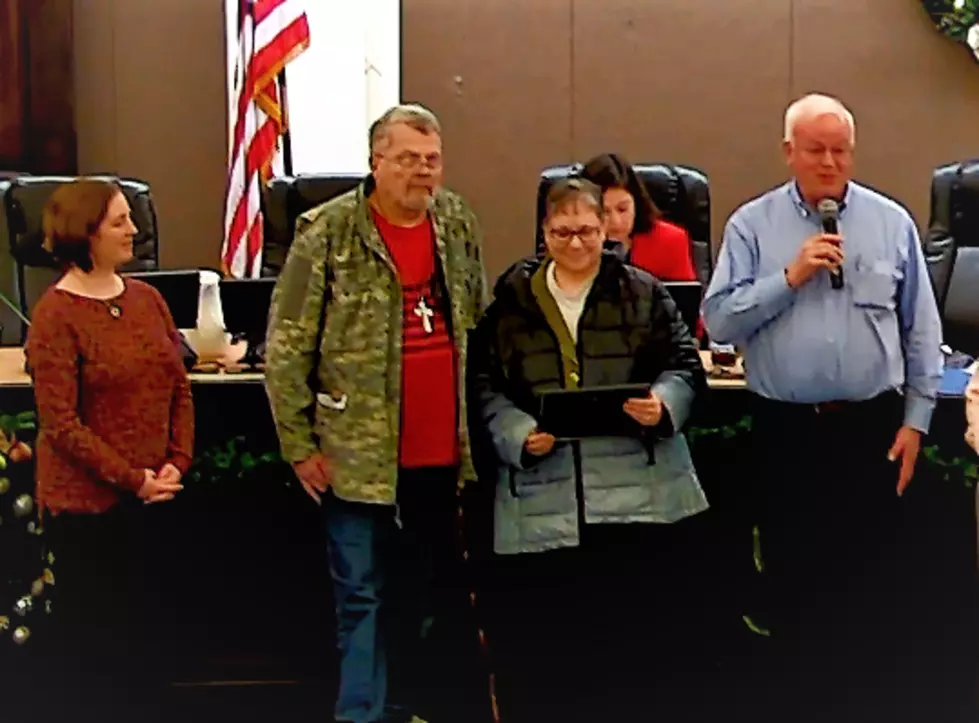 Vietnam Veteran Honored For Fighting Blight In Battle Creek
Allen Blickley honored (Courtesy Calhoun County Land Bank Authority)
A Battle Creek man was honored recently by his local Neighborhood Planning Council and the City of Battle Creek for helping beautify an area where a dilapidated house on stood in his neighborhood. Allen Blickley was given a 'Beautiful Battle Creek' Award in December for sprucing up a lot where a blighted house once stood. The property at 92 N. Wabash Ave. was owned by the Calhoun County Land Bank Authority. They demolished the house in 2018 and sold the empty lot to Blickley as part of its Side Lot Sale program.
"I am humbled and honored to receive the Beautiful Battle Creek Award and want to thank the Neighborhood Planning Council and City of Battle Creek for the recognition. I also want to thank the staff at the Land Bank for their patience and dedication to find funding for the demolition. I especially want to thank Angela Whitesell personally for talking with me regularly through the whole process; she was always patient and kind." - Allen Blickley
Blickley, a Vietnam War veteran, and his wife Katharine, built a garage on the adjacent lot along with evergreens along the property line. They also installed a flag pole.
"Mr. Blickley should be proud of the work he has done at 92 N. Wabash and deserves this recognition from the City of Battle Creek, and the Land Bank is proud to have contributed to the outcome. Our Side Lot Sale program is a great way for Calhoun County residents to add on to their property, like Mr. Blickley did, or to beautify their neighborhood, by turning an empty lot into a community garden. Getting side lots back on the tax rolls helps fund local schools and critical services like roads, public safety and programs for seniors and veterans." - Krista Trout-Edwards, Executive Director of the Calhoun County Land Bank Authority.
If you are interested in checking out available side lots in Calhoun County CLICK HERE
Here is a photo gallery that shows the progress during the course of the construction.
Transformation at property on N. Wabash Avenue