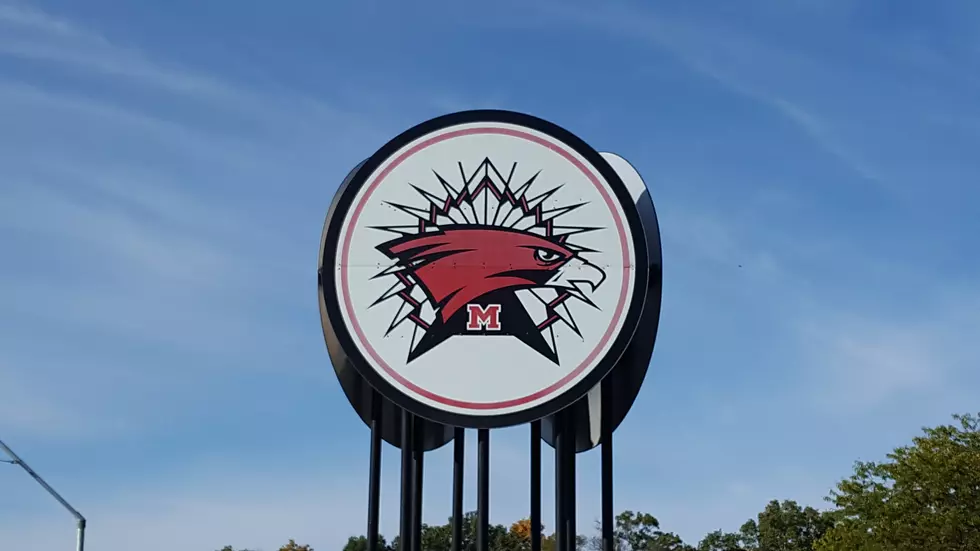 HS Football – Marshall, Parma Western Battle for Third in I-8
The triangle structure featuring the Marshall Redhawks logo. (Photo - Nathan Adams)
Two of the top teams in the Interstate 8 will square off in position for their final place in the standings and their quest for postseason bids tonight.
Our Week 8 Game of the Night takes us to Marshall for a battle of third-place squads in the hosting Redhawks and the Parma Western Panthers. It's the final week of conference play in the I-8, with the last chance to elevate in the standings.
For the Redhawks, they look to make their first postseason since 2015 - the first year of Jason Stealy's tenure as head coach. Stealy is still on the coaching staff, helping out first-year head coach Bill Dryer. Two wins in the final two weeks would earn a ticket to the postseason. It all starts tonight as they honor the 10th anniversary of the Redhawks 2009 State Championship. At 4-3, Marshall could easily be undefeated at this point, losing their three contests by a total of nine points.
Western comes in looking for their fourth postseason bid and their third in a row, on the heels of their best playoff finish last year that ended in the Regional Finals. A senior-led squad with many starters returning has given the Panthers a chance for another deep run.
Check out the preview of the contest below and a complete Week 8 schedule, with one other area 11-man team with an opportunity to lock up a postseason spot tonight with the Homer Trojans. They hope to join undefeated Lakeview and Olivet in that case.