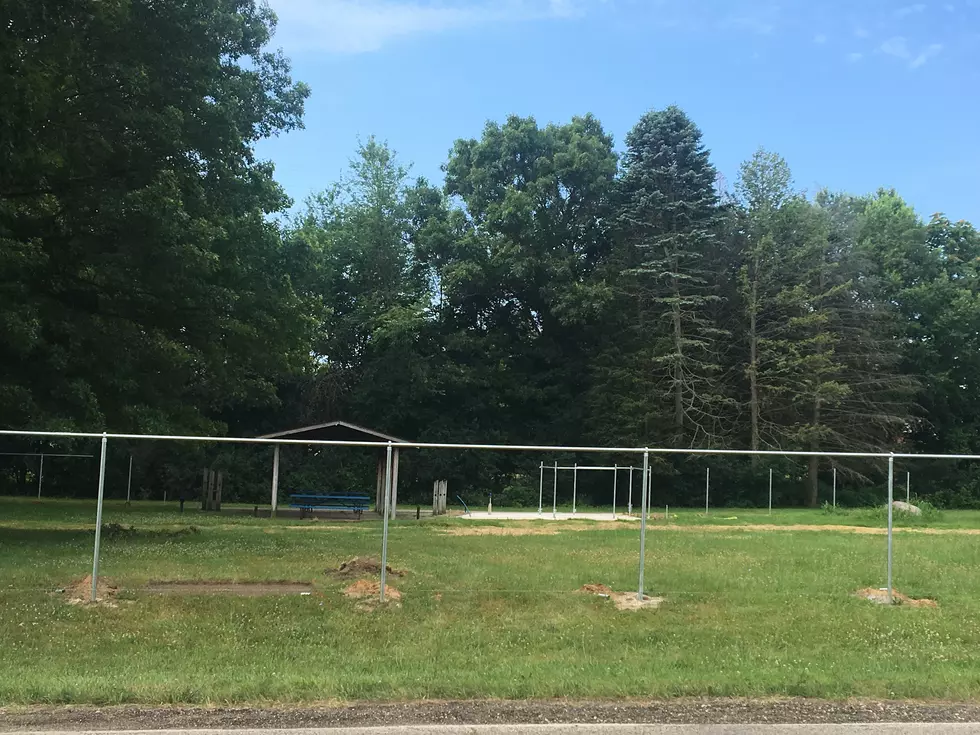 New Dog Park Construction Moving Along
Dog Park July15-TSM
It's not a home run yet, but it's taking shape.  Construction on Battle Creek's new "Home Run" dog park is well underway on the south end of Bailey Park, north of Battle Creek.  Michael Delaware, one of the chief organizers of the project, says the water lines were the first thing installed.  Rhino Plumbing did the work.   He pump spigots  have been installed at all three entrances, as well as  two water fountains.  The water fountains are on order.
Delaware says the fence posts are all installed, and the concrete pads were all poured last week at all three entrances.  The chain link should be going up this week.  He says Pure Fence has been the contractor on the fencing, and they have done a great job.
The  14 dog benches are all made, created by the Iron Workers Local 25, and the material was sold to the park wholesale by Arlo Steel.
Delaware says they'll be installing the benches in concrete pads, and that should begin over the next two weeks.  They'll also be ordering pet waste stations (for poop bags) and trash receptacles for the park.  The Kalamazoo Poo Crew has agreed to service the park and remove the waste.
Organizers are working on the trying to line up volunteer carpenters to build the agility equipment.  One of the committee members is working with the local Carpenters Union to assemble a team to build them.  The material for these is made possible from a grant from the Battle Creek Area Association of Realtors.
If volunteers would like to help with building these, they can contact the committee  on Facebook.
Delawars says they are hoping to also be able to install some concrete tunnels, tires and boulders as part of the agility course.   They are also planning to put in a small shed in the park to use for volunteers and staff for supplies and tools.
And they hope to paint the pavilion before the grand opening too.
City Commissioners recently voted to change City Ordinances to accommodate dogs being permitted off-leash in the dog park, as the city park ordinances wouldn't allow for that.   Commissioners also approved rules for the park, and signage for these, and other signs are being worked on.
Delaware says there's no firm date for the Grand Opening yet, but they're hoping for late August.