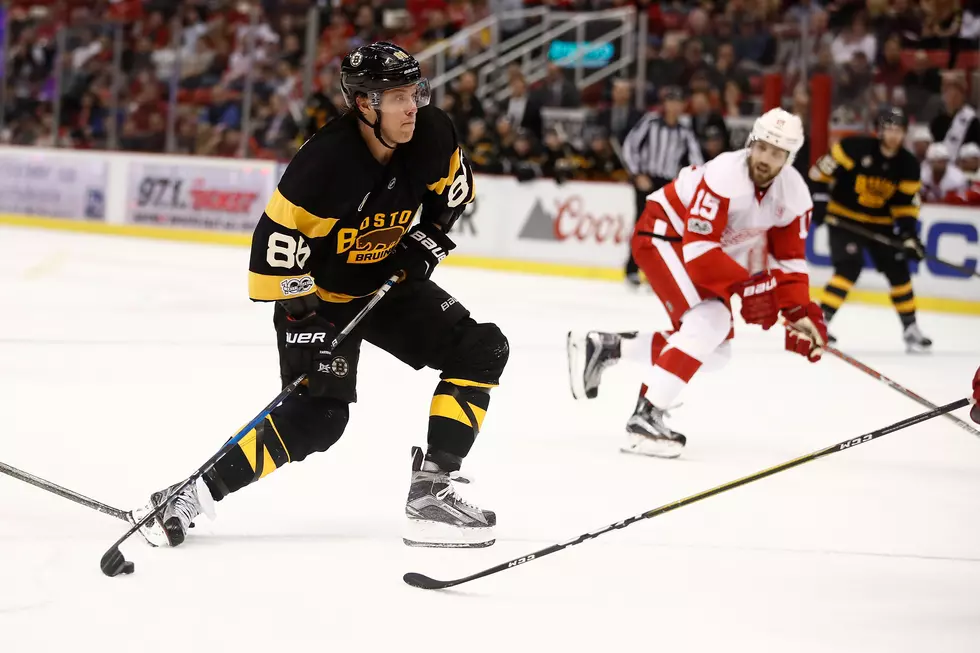 Sports: Wings, Spartans Lose
(Photo by Gregory Shamus/Getty Images)
The Boston Bruins rallied to beat the Detroit Red Wings 4-3 in overtime on Tuesday night.
Mike Green had a goal and assist for the Red Wings, who extended their point streak to six straight games. Tomas Tatar and Andreas Athanasiou also scored for the Red Wings.
But with 47 seconds left in overtime, the Bruins won it.
David Pastrnak scored the game winner.
Jared Coreau finished with 45 saves in his second start against the Bruins in less than a week. He was pulled just 5:13 into the Red Wings' 6-5 shootout win at home last Wednesday after allowing three goals on eight shots.
The Wings are home to face Toronto tonight.
Michigan State lost to No. 20 Purdue, 84-73 on Tuesday night.   The Spartans (12-9, 4-4) have lost three straight and four of five.  Miles Bridges had 33 points, breaking Scott Skiles' freshman scoring record of 32 set in 1983 against Ohio State.  The Boilermakers were simply too big and balanced for the undersized and short-handed Spartans, whose biggest players, Gavin Schilling and Ben Carter, are out with knee injuries.  Caleb Swanigan had 25 points and 17 rebounds in getting his nation-leading 17th double-double.
Next for the Spartans is Michigan, this Sunday at noon on WBCK.
Three of the top four men's basketball teams were knocked off last night, paving the way for unbeaten Gonzaga to climb to the top of the AP rankings.  Villanova, Kansas, and Kentucky all lost last night.
Akron beat Western Michigan 90-80 on Tuesday night to win its 10th in a row.  Thomas Wilder scored 25 for the Broncos (6-13, 2-5).
Braylon Rayson and Marcus Keene combined for 55 points as Central Michigan held off Bowling Green 82-76 on Tuesday night.
High School Boys Basketball
Battle Creek Central 45, St. Joseph 41.  Demetrius Craig with 15.
Pennfield 69, Lake Odessa Lakewood 44.  Francois Jamierson had a double-double with 17 points and 13 boards, and his cousin, Ron Jamierson, had 17 points and seven assists.
Climax-Scotts 64, Centreville 63.  Riley Boomershine led Climax-Scotts with 16 points and hit a shot from half court as time expired for the win.
Litchfield 86, Calhoun Christian 75
Jackson Home School 61, Battle Creek Academy 57
Olivet 66, Parchment 43. Delbert Redfield with 19.
Portage Central 57, Gull Lake 48
Tekonsha 65, North Adams-Jerome 54
Colon 48, White Pigeon 38.
This Friday, WBCK will broadcast the Lakeview at Battle Creek Central game.
Lakeview 56, Stevensville Lakeshore 36.   Emily Eldridge with 15 points and 10 rebounds.
Pennfield 74, Lake Odessa Lakewood 46
St. Joseph 67, Battle Creek Central 25
Bronson 37, St. Philip 36
Athens 55, Homer 42.  Hannah Hartmann led the Indians with 12.
Bellevue 55, Maple Valley 33. Casie Shannon with 21.
Galesburg-Augusta 56, Bloomingdale 23
Litchfield 43, Calhoun Christian 28
The Pistons head to Miami to play the Heat on Saturday.
Serena Williams is on target for her 23rd Grand Slam singles title following a 6-4, 6-3 win against Johanna Konta at the Australian Open. Williams has reached the semifinals in her last 10 major tournaments and joins fellow Americans Venus Williams and Coco Vandeweghe in the Final Four. She next faces Mirjana Lucic-Baroni.
Michigan Assistant Coaches
Michigan has signed contracts to pay Jim Harbaugh's top two assistants, defensive coordinator Don Brown and offensive coordinator Tim Drevno, more than $10 million combined over the next five years.
The Tigers signed former catcher Alex Avila as their backup catcher over the winter, and last year's backup, Jarrod Saltalamacchia has a new team.  He signed with the Blue Jays yesterday.   Only 19 days until pitchers and catchers report to Lakeland Florida.