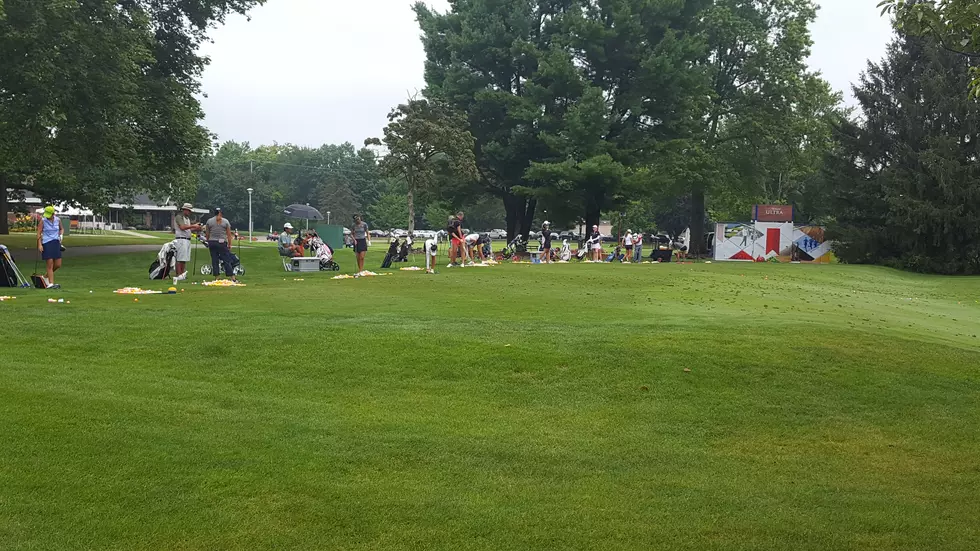 Symetra Tour Swings Through Battle Creek This Weekend (VIDEOS)
Several players on the Symetra Tour prepare for the Firekeepers Casino Championship at Battle Creek Country Club August 13, 2019. (Photo - Nathan Adams)
The Symetra Tour, the proving ground for the professional ladies before reaching the LPGA, returns to the Cereal City to provide the next challenge for a full 144-player field.
Eight players have Michigan ties either by residency or by playing at a university in-state. One of the most notable of the group is Gabrielle Shipley of Hastings, who completed her four-year career at Grand Valley State in 2016. Her younger sister Sarah will be playing as an amateur this weekend, coming off a win at the Women's Western Amateur in July. Sarah is heading into her senior campaign at Kentucky.
Another eight players are among the current top ten for the Volvik Race for the Card, where the Symetra Tour's top 10 money winners for the season get their card to join the LPGA next season. The current number one is France's Perrine Delacour (interview below) who has picked up two wins on the season, both in the Midwest at the Four Winds Invitational (South Bend, IN) and the Prasco Charity Championship (Cincinnati). She is one of four two-time winners in 2019.
Another number to look at this weekend is three, as in the players returning to Battle Creek Country Club as previous champions of the Firekeepers Casino Championship. Defending champion Marta Sanz Barrio (interview below) returns to Battle Creek and is paired with 2017 champion Erynne Lee on Friday. The two will tee off the first tee at 8:58am along with Kelly Tan.
The champion of the inaugural event in 2014, Min Seo Kwak, is currently 11th in the Race for the Card. She will be grouped with Elizabeth Nagal and Robynn Lee, who is fifth in the Race and has won the last two Symetra tournaments. They are set to go off the 10th tee Friday at 1:05pm.
The last number is 19, which is the total number of the top 25 in the Race that are looking to sneak in or hold their spot in the top 10. One of those players in Lauren Coughlin, who is played at BCCC for the second time and current sits at 15th overall.
The 144-player field will be cut to 60 players plus ties after the second round Saturday. The final round is set for Sunday, vying for a piece of the $125,000 purse. Follow all the action by checking out the Symetra Tour page.
Be sure to head to Battle Creek Country Club to celebrate the best players in professional golf this weekend.