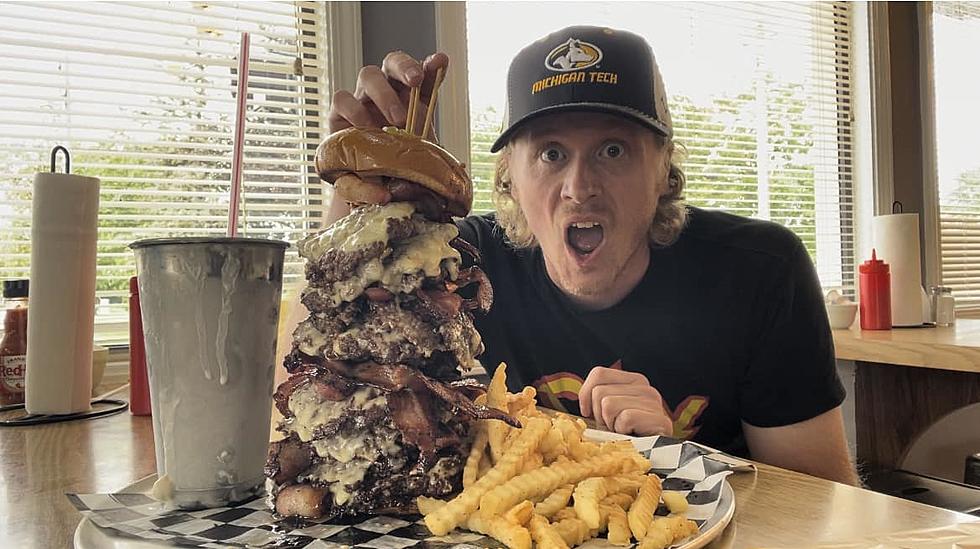 Battle Creek Man Is Still Challenging America's Restaurants
Nathan Klein
It was on June 7th, 2018, that Nathan Klein won his first food challenge. It wasn't his first challenge. He had previously lost his first challenge, but he wasn't discouraged. Leaving work for lunch, he went to a local pub, in Battle Creek, Michigan, beating and setting the record for their 3lb burger challenge. He then returned to work, finishing out the day. Since then, he has won 266 food challenges, losing only 7.  
In a recent phone interview, Nathan shared with me his journey through the world of competitive food challenges. He is a graduate of Athens Senior High School, in Athens, Michigan and received a mechanical engineering degree from Michigan Technological University. He now works as a project manager.
A Budding YouTube Channel
Besides the daily job and traveling across America, chowing down in record time, Nathan has a popular YouTube channel that features well-produced videos of his various challenges and currently has 5.37 K subscribers. He usually sports a Michigan Tech baseball cap and often wears Harper Creek "Beavers" swag, in support of his kid's school. When passing through Illinois, a Detroit Lion's cap shows his Michigan pride. His impressive Facebook page keeps followers up to date on his challenges with plenty of photos and links to his videos. 
The Birth of Competitive Eating
It was Kalamazoo where Klein first began taking on food challenges. In a past interview with Townsquare Media's Da'Jzon Hughes, Nathan reflected, 
I was actually lying in bed when my wife said there was a donut eating contest at Sweetwater's Donut Mill in Kalamazoo, in which I came in second and that just made me want to win.
Since then, he has competed in 35 states and his goal is to hit all 50. He will be heading to New England in October, where he hopes to add 6 more challenges to his scoreboard. 
So, How Does He Find The Scads Of Food Challenges?
Thanks to the internet, Klein can keep track of all of the food challenges across the nation. FoodChallenges.com is a go-to, along with the "word-of-mouth" suggestions from friends, followers, and social media. Occasionally a restaurant will supply a tip. 
The Most Memorable Challenge
With over 266 challenges under his belt, he was hard-pressed at which challenge was the most memorable, but pancakes rose to the surface. The largest pancakes were found in Drummond Island, Michigan, and Minneapolis, Minnesota. He estimated the size of the pancakes at 16"-18", about the size of a pizza. 
National Pancake Day was on September 26th of this year. In honor of the flapjacks, Klein visited the Big Boy Restaurant on his home turf in Battle Creek. Big Boy's Big Pancake Challenge was undefeated, and he had just 12 short minutes to devour 12 plate-size pancakes. He easily defeated Big Boy with plenty of water and by cramming the 12 hotcakes down his throat in a record-setting time of 5:58. He was awarded a food voucher and a T-shirt. It's the pancake challenges that are rather unpredictable. Klein reflects,  
Pancakes are hit or miss. The Big Boy pancakes were pretty good. Sort of cake-like. Some pancakes can be like sludge.
The Big Boy Big Pancake Challenge In Battle Creek, Michigan
A 7-Day Fitness Routine
Looking at him, he doesn't really fit the image of what you would think a regular food challenger would look like. He's trim and rather athletic-looking. The only thing I could think of is that he must have one heck of a fitness routine, and he confirmed that is the case. His daily routine starts at around 4 AM with a 1-hour workout on the treadmill and weightlifting. And that's 7 days a week. 
What Does The Future Hold?
Klein is inching his way towards his goal of wolfing down food in all 50 states. During October he is visiting New England, where he plans on competing in 6 more challenges. 
Check out the gallery below, which highlights some of Nathan Kleins' food challenges.
Battle Creek Man Is Still Challenging America's Restaurants
He's a Michigan hometown hero. Battle Creek's Nathan Klein has traveled the nation, taking on food challenges and crushing records. His daily fitness routine keeps him in shape, rising at 4 AM, seven days a week to hit the treadmill and weights.
With 266 wins and only 7 losses, Klein hopes to compete in all 50 states, setting records along the way. You can view his popular
YouTube
channel to witness the jaw-dropping food challenges that cross his plate.