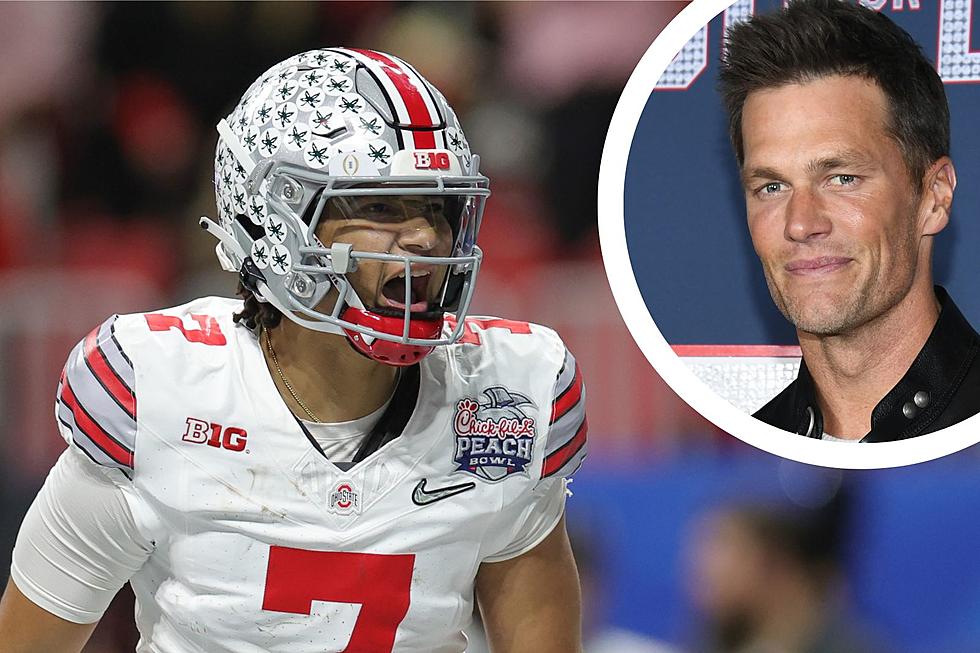 Tom Brady, CJ Stroud Make Hilarious 'Bet' for Michigan-OSU Game
Getty Images | Canva
It certainly feels like the fact that the greatest NFL quarterback of all time played collegiately at the University of Michigan gets glossed over a lot. It's understandable since, after all, Tom Brady is a California kid who played his entire NFL career on the East Coast. The time he spent in Ann Arbor, though mostly successful, was not without its difficulties.
It also doesn't help that we simply don't see Brady back in Ann Arbor often. He was kind of busy for the last 23 years, so he deserves some sort of pass.
Still, the future Hall of Famer is still more than proud to call himself a Michigan Man and rep the Maize and Blue.
As most retired athletes seem to do these days, Brady has his own podcast, The Let's Go Podcast. Brady's most recent guest is Houston Texans superstar rookie quarterback CJ Stroud, who of course played his college ball in Columbus at Ohio State.
Stroud may be taking the NFL world by storm this season, but his struggles against Michigan are well-documented. Ohio State held an eight-year win streak over Michigan when Stroud took over as the Buckeyes' starting quarterback. The Wolverines beat Stroud in both of his tries at the big rivalry game.
This year, assuming Michigan beats Maryland and Ohio State beats Minnesota, which both are overwhelming favorites to do, the Wolverines and Buckeyes will be undefeated in their matchup on Thanksgiving weekend for just the fourth time.
Michigan has never beaten Ohio State when both teams enter the game undefeated with the Buckeyes holding a 2-0-1 record in that scenario.
Nonetheless, Brady is confident that the Wolverines can extend its winning streak over Ohio State and was willing to make a friendly, if not one-sided wager, with the young quarterback. Brady wagered one of his Super Bowl rings for Stroud's youth.
If Ohio State wins... You get one of my Super Bowl rings. If Michigan [wins] then you give me all your youth, your agility, your time in the 40 and all your future years in the NFL

-Brady
Either Brady is really confident in the Wolverines, or he really misses the NFL.
Stroud, of course, said he wouldn't take one of Brady's record seven Super Bowl rings, opting to earn one or more of his own one day.
The friendly banter between the quarterbacks is not the norm for one side that won't use a whole letter of the alphabet and the other that won't call the rival school by name, trademark article or otherwise.
Michigan's All-Time Passing Leaders
Check out Michigan's top-12 quarterbacks of all time based on total passing yards.
Gallery Credit: Jacob Harrison
Michigan Wolverines' All-Time Record Against Each Big Ten Team
Historically, the Michigan Wolverines are dominant in Big Ten play. Here's their all-time record against each team in the conference.
Gallery Credit: Jacob Harrison