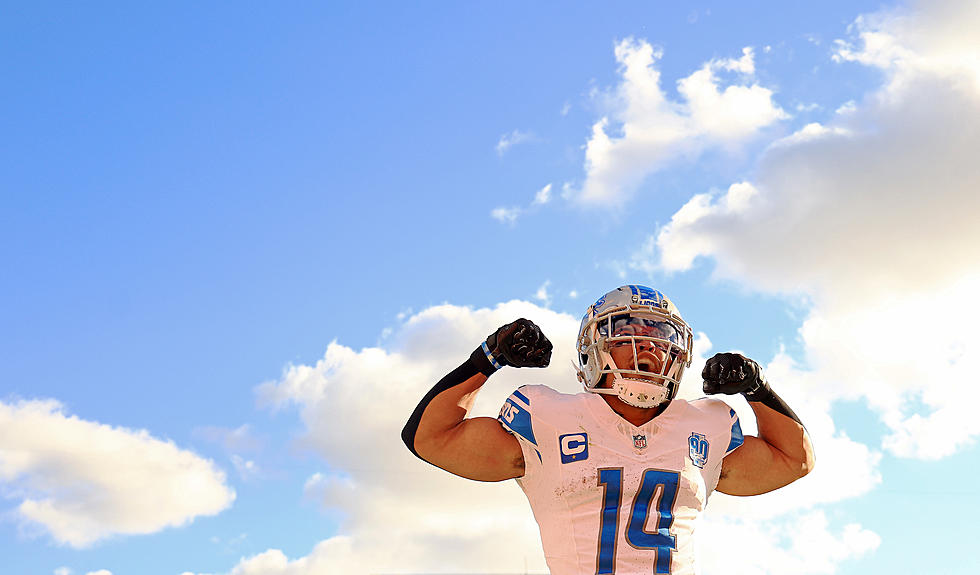 WHAT?! Detroit Lions Have The Best Odds To Win The Super Bowl
Getty Images
We're a third of the way through the 2023 NFL season and it's fairly clear that the Detroit Lions are everything fans hoped they could be. Dan Campbell's roster entered the campaign with an overwhelming serving of expectations and has cleared the bar impressively so far.
The Week 1 win over Kansas City was sure to be crucial, but riding the high of emotion from that victory didn't completely pay off as Detroit dropped its home opener at Ford Field to the Seattle Seahawks. Since then, the Lions have not only looked great, they've looked unstoppable.
Granted, the Lions do not have a difficult schedule. Coming into the season it was a top-10 easiest schedule across the NFL, and now it stands at the second-easiest schedule remaining in the league. The Lions play just four more teams that have winning records at the moment for the remainder of the season.
Over the past few weeks, Detroit has picked on some less-than-elite teams, beating the Falcons, Packers, Panthers and Buccaneers. None of those teams are particularly good, though the Packers, Flacons and Bucs all figure to be in the race for the final playoff spot by the end of the season for one reason or another.
Because the Lions look so good and their opposition looks so questionable, the math is starting to add up for Detroit. According to Playoff Status, a statistical site that calculates playoff percentages across the world of sports, the Detroit Lions lead the NFL in a number of categories, including odds of winning the Super Bowl.
The Detroit Lions have the highest odds of:
Make the NFL Playoffs at 95%
Clinch the No. 1 seed (home field advantage and a first-round BYE) at 29%

That number spikes to 35% with a win over the Baltimore Ravens next week.

Reach the NFC Championship game at 41%
Reach the Super Bowl at 22%
Win the Super Bowl at12%
With the San Francisco 49ers' upset loss to the Cleveland Browns last week and the Philadelphia Eagles' loss to the New York Jets, a lot of things fell into place for the Lions. However, because those two lost to AFC teams and the Lions lost to an NFC team, the Lions don't completely control their playoff destiny. Another loss by either of those teams to an NFC franchise would help Detroit out tremendously.
This may be the best start to a Lions season since 2011, but if it continues as it has, it could be the best finish in franchise history.
The 25 Greatest Detroit Lions of All Time
These are the 25 greatest Detroit Lions of all time, according to Pro Football Reference's Approximate Value ratings.
Gallery Credit: Jacob Harrison
The 9 Biggest Wins in Detroit Lions History
Gallery Credit: Jacob Harrison