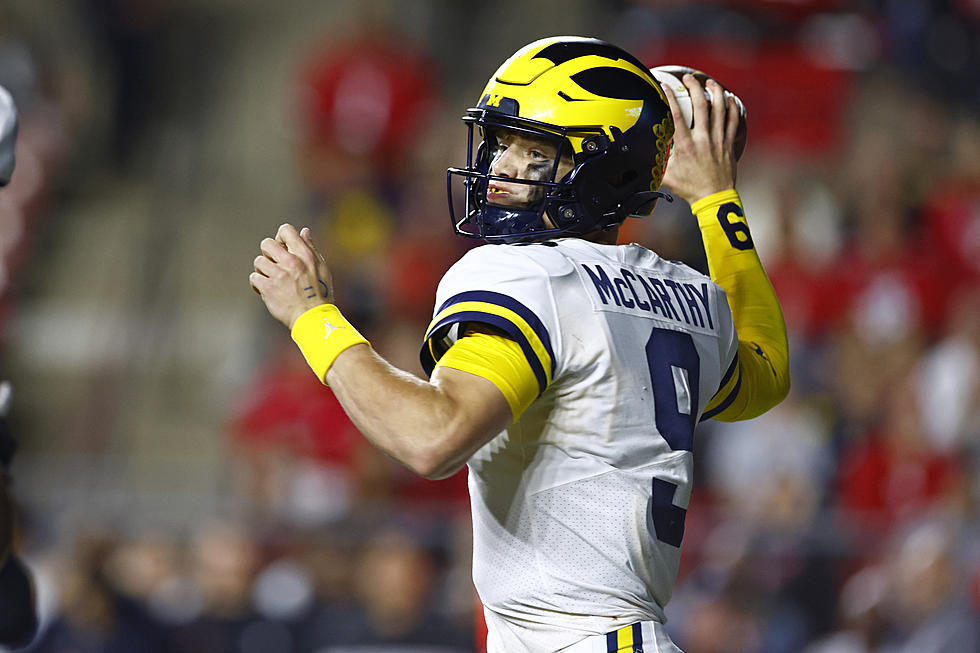 What Michigan Records Is JJ McCarthy Capable of Breaking in 2023?
Getty Images
Michigan Wolverines quarterback JJ McCarthy is poised for a big season in 2023. The Wolverines return a wealth of talent for the upcoming season, but returning the quarterback is a key aspect that favors the Wolverines considerably on the national scale.
Consider this: Alabama, Georgia, and Ohio State are all starting new quarterbacks in 2023. Now they're all powerhouses and are capable of reloading, but it's one more hurdle Michigan won't have to climb comparatively.
Still, it could very well be the final season with McCarthy being the guy in Ann Arbor. If his play meets expectations, McCarthy could be headed to the next level as a first-round draft pick. Now, putting the horse before the carriage is always a dangerous game. Head coach Jim Harbaugh probably doesn't want the media blowing too much smoke around the potential of his starting quarterback either.
But, it's the offseason and the season is right around the corner. Why not speculate a bit and ponder what records McCarthy could break this season?
The most likely possibilities are the single-season records. Whether completions, yards, or touchdowns, McCarthy has a solid chance at each.
Arguably the toughest will be the single-season completion record. In 2003, John Navarre completed 270 passes. Last year, McCarthy only attempted 322. With Blake Corum set to return at running back alongside Donovan Edwards, Harbaugh is likely aiming to run the ball about as much as he did last year, which was a whopping 62%.
It'll be a tall task and not necessarily one worth reaching for as the offense is built to go through the running game. Still, there will be more trust in McCarthy this season, which means more opportunities. At a 64% completion percentage in 2022, those extra opportunities could add up to a record-breaking performance.
Possibly the next most likely mark is breaking Chad Henne and Elvis Grbac's shared record of 25 passing touchdowns. McCarthy scored 27 touchdowns last year, but five came on the ground. If McCarthy is getting those extra opportunities then there instantly becomes more chances to cross the goalline through the air. At the end of the day, 25 is a low number in today's college football and if McCarthy doesn't hit it, the Wolverines could be in trouble when it comes to their national aspirations.
If McCarthy hits that mark then there's little doubt that he'll break the yardage record set by Navarre in 2003 at 3,331. McCarthy threw for 2,719 last year, but again, if we're anticipating more opportunities, those extra 700 yards are there to be had without forcing the issue.
The career records are too far out of reach. If McCarthy doesn't impress the NFL and he's suiting up for Big Blue in 2024 then he'd definitely be expected to break the career marks held by Chad Henne. But then again, if McCarthy doesn't impress the NFL, would he be the best option in 2024?
Still, McCarthy will climb quite high on the career-passing leaderboards in Michigan history. In a matter of weeks, he's set to pass two big names on Michigan's leaderboards. With just over 1,500 yards he'll pass Tom Brady to crack the top 10 in yards while five touchdown passes will eclipse his head coach's total which marks the top 10 in that regard.
If McCarthy were to simply double his career numbers in 2023 he'd finish the season with the single-season yards and touchdowns records and stand at third in all-time passing yards and fourth in all-time passing touchdowns. That sounds quite reasonable for the talented quarterback of one of the nation's top teams.
Sure, winning a championship is top of mind as the ultimate goal, but it's always fun to watch an athlete etch his name in the lore of a program as history-rich and prestigious as the University of Michigan.
Michigan's All-Time Passing Leaders
Check out Michigan's top-12 quarterbacks of all time based on total passing yards.
The Michigan Wolverine's 2023 Schedule
The Michigan Wolverines are eyeing a national championship in 2023. First, Big Blue will have to run through its regular season schedule, listed below.