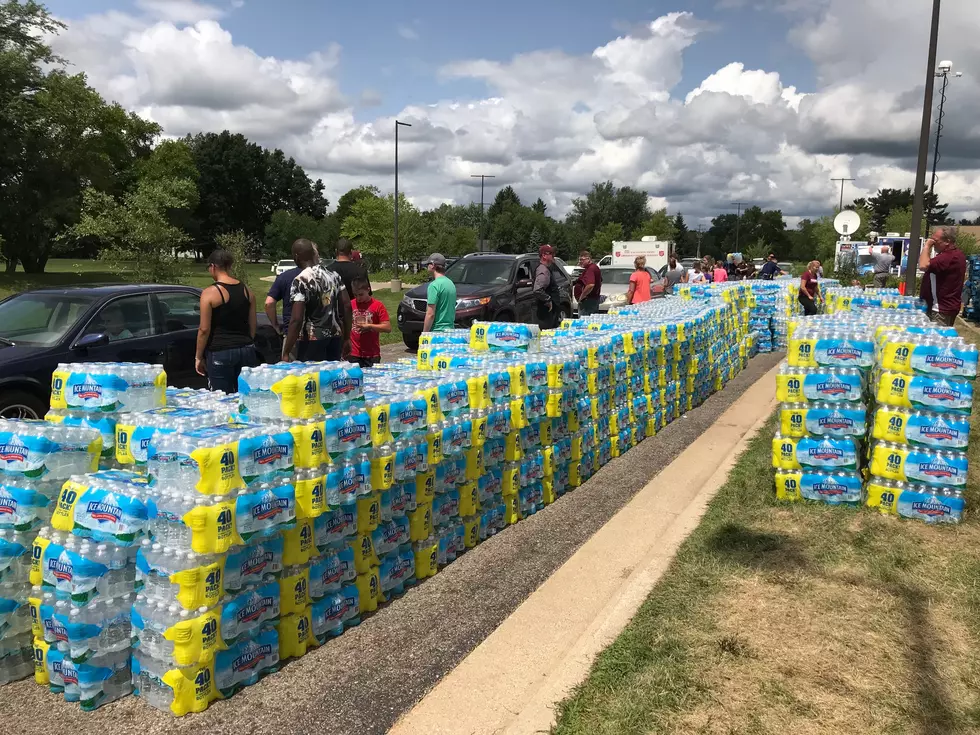 Parchment Water Crisis: The First 24 Hours
Water Distribution- Brandon James/ TSM
News spread quickly into Thursday evening that water in the City of Parchment and some areas of Cooper Township in Kalamazoo County had tested positive for what the State of Michigan has designated as unsafe levels of Perfluoroalkyl and Polyfluoroalkyl substances (PFAS). Within hours, MPART and local agency response officials put in motion a short term solution of switching Parchment's city water over to the City of Kalamazoo's water supply system. Before midnight, city officials began flushing out Parchment's city water system.
Residents affected are being told to IMMEDIATELY to stop using their water for drinking, cooking, making baby formula or food, rinsing produce or for pets and livestock. Water distribution sights began operation 7:00 a.m. Friday at Parchment High School, located at 1916 E.G Ave., and will remain open until 9:00 p.m. with distribution expected to continue into the coming days, weeks or perhaps months. Those who are unable to pick-up needed water or have questions or concerns regarding use can call the Parchment Water Crisis Hotline at (269)373-5346.
Gov. Rick Snyder late Thursday directed the state departments of Environmental Quality, Health and Human Services, and State Police to assist in response efforts.
The Michigan PFAS Action Response Team (MPART) is the first multi-agency action team of its kind in the nation. Agencies representing health, environment and other branches of state government have joined together to investigate sources and locations of PFAS contamination in the state, take action to protect people's drinking water, and keep the public informed as we learn more about this nationally emerging contaminant. It was through these groundbreaking efforts that the contamination was discovered.
During the Friday press conference we learned that the contamination may not be limited to the already highlighted areas and the multi-agency response team is already working on a plan to test private wells within a one mile radius of the originally identified area. Residents are urged not use private test kits due to the likelihood of a false positive reading.
What we don't know, and what is possibly most concerning to the communities affected, is how long have residents been consuming the contaminated water. Once the sources of the PFAS contamination is identified, officials expect to have a better idea of the contamination timeline. Or, how long the ban will remain in place.
A town hall meeting has been scheduled for Tuesday, July 31, 2018, at Haven Church on 5350 N. Sprinkle Rd. beginning with an open house from 5:00 p.m. to 6:00 p.m. The town hall portion will take place from 6:00 p.m. to 8:00 p.m.